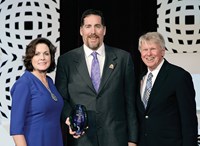 Motor Coach Industries ("MCI"), a subsidiary of New Flyer Industries Inc. (the "Company"), the largest bus and motor coach manufacturer and parts supplier in North America, has provided service and equipment to the most innovative operators in the motorcoach industry, since it began more than 80 years ago. That tradition continued at the UMA Expo February 26-March 2 with Montana's Karst Stage and Kansas' Village Tours taking top honors for their respective work in green transportation and innovation in ground transportation.
"Both are MCI customers and we couldn't be prouder," said Pat Ziska, New Coach Sales Vice President.
Karst Stage / UMA Green Highway Award
As a leading ground transportation provider in Big Sky country, Karst Stage President Dan Martin took home the 2017 UMA Green Highway Award for one of the most environmentally forward business operations in today's motorcoach industry. Headquartered in Bozeman, Montana, Karst won for an industry-leading assortment of green policies including full participation in the EcoDriver and IdleFree certification for all of its drivers under the Certification for Sustainable Transportation (CST) program sponsored by the University of Vermont. Karst is also working to make sure every single one of its vehicles are eRating-certified through the same program. Staff, drivers and technicians adhere to a wide-ranging recycling policy that covers everything from printer paper to used mufflers and waste oil. All recyclable materials collected from cubicle to passenger seat to service bay are picked up by a dedicated hauler or delivered personally by Karst for recycling.
Dedication to the latest, cleanest and most energy-efficient technology also defines Karst's green spirit. The company has retired more than 15 older vehicles over the past two years, vastly improving its carbon footprint and making the average age of its fleet to seven years or newer. At its facilities, the company switched to LED and motion- and sound-sensor lighting in its bus barns more than two years ago. Karst even convinced Google Maps to visit and present a 360-degree view of its new MCI® J4500 coaches as a substitute for the usual curbside photo.
Village Tours / UMA Vision Award /Large Operators
Founded in 1980 and acquired by the Arensdorf family in 2000, Wichita, Kansas-based Village Tours began a steady march of organic growth and acquisitions that has made it one of the largest full-service charter and tour companies in the Midwest. It's a business approach that helped Village Tours bring home the 2017 UMA Vision Award for large operators.
"I say if you come to work for us you will dominate the conversation because our business leads to great stories," said Jeff Arensdorf, President, when accepting the award. In the Arensdorf family's hands, a love of the business has led to great growth as well. Village Tours believes that constant fleet renewal — and the positive impact it has on passengers and drivers alike — has been a catalyst for that growth. It's also redefined ground transportation in the central Midwest and beyond by offering highly creative tour packages, charter and shuttle services and personalized service with access to travel agents, a friendly staff and live chat website sessions.
A package to a World Series playoff, for example, sold out within days. Traditional travel agency services and daily scheduled service in cooperation with Greyhound adds to its ridership numbers and keeps its fleet of 91 coaches on the go. The company really believes in its metrics. The Vision Award committee took notice of how Village Tours carefully tracks its fleet utilization, which it has replicated in every expansion market. Always looking for businesses with a similar footprint to its own, since 2011, Village Tours has acquired eight bus companies within a 400-to-500-mile radius from its headquarters. Employees are a big focus — the 240-worker company believes in the words "thank you," and is known for attracting the best mechanics in the industry with an aggressive training program. In accepting the award, Arensdorf thanked his father, his wife and his entire team for their focus on the business.
About Motor Coach Industries
MCI is the largest transit bus and motor coach manufacturer and parts distributor in North America with fabrication, manufacturing, distribution and service centers in Canada and the United States and employs approximately 5,000 team members.
Through its Canadian and U.S. subsidiaries, Motor Coach Industries Limited and Motor Coach Industries, Inc., it is the leader in motor coaches in Canada and the U.S., offering the MCI® J4500, which is the industry's best-selling intercity coach for 11 consecutive years, and the MCI® D-Series, the industry's best-selling coach line in North American motor coach history. MCI is also the exclusive distributor of Setra® S 417 and S 407 in the United States and Canada. MCI actively supports over 28,000 motor coaches currently in service and offers 24-hour roadside assistance 365 days a year.
Through its Canadian and U.S. subsidiaries, New Flyer Industries Canada ULC and New Flyer of America Inc., it is North America's heavy-duty transit bus leader and offers the broadest transit bus product line (Xcelsior® and MiDi® models), incorporating the broadest range of drive systems available, including: clean diesel, natural gas, diesel-electric hybrid, electric-trolley and now battery-electric. New Flyer actively supports over 42,000 heavy-duty transit buses (New Flyer, NABI and Orion) currently in service.
MCI also operates North America's most comprehensive aftermarket parts organization providing support for all types of transit buses and motor coaches. All buses and coaches are supported by an industry-leading comprehensive warranty, service and support network.