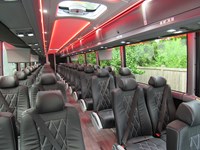 Motor Coach Industries ("MCI"), a subsidiary of New Flyer Industries Inc. (the "Company"), the largest bus and motor coach manufacturer and parts supplier in North America, notes that with a bus transportation history spanning 90 years, Mid-American Coaches already offers passengers the ultimate luxurious group travel experience. It's a reputation that will only grow with its latest two MCI J4500 coaches featuring limo-style seating and upgrades throughout.
The Washington, Missouri-based charter and tour operator is refreshing its 20-coach fleet with a 2017 MCI J4500 just delivered in July and one of the first 2018 MCI J4500s to roll off the line in mid-September.
For 2018, MCI introduces unprecedented interior ambience in its industry-leading J4500 model. Starting with a completely redesigned cabin with best-in-class legroom, a larger lavatory and an updated driver cockpit featuring a high-definition instrument panel with on-screen diagnostic capabilities, Mid-American went for the best. But that's not all.
The 2018 J4500 also features new airline-inspired ceiling lights and aisle puck lights that illuminate the roomier cabin which also features new parcel racks that blend with the front cap of the vehicle.
It will be a colorful ride, too. Mid-American chose the optional programmable RGB (Red, Green and Blue) lighting package that lights up the interior and the spiral stairway entry in multiple color selections appropriate for customer branding.
Both Mid-American's new J4500 coaches feature optional Amaya A 220 black leather diamond seating for 56 passengers. Amaya workers hand-stitch the diamond pattern on the leather to assure symmetry and quality. The limo-inspired interior also includes cup holders, individual-seat power outlets and Wi-Fi.
"We're very deliberate in the way we operate our fleet," said Dennis Jones, Mid-American Vice President, who runs the company with his brother Roger. "We haven't purchased new equipment since 2009. It's the right time, and it's the first time we're going with limo-style seating."
He added, "Tour and charter is 100 percent of our business and we like the ability to offer a custom, upscale interior to our customers, especially those riding with us on our longer-distance trips."
Mid-American was founded in 1927 as a scheduled bus route service serving the greater St. Louis area, including east central Missouri and west central Illinois.
Jones' parents purchased Mid-American in 1957, and grew the business from six Flexible and GM buses to a newer model fleet operating five scheduled service round trips from Washington to St. Louis every day, along with other commuter service routes. When Jones and his brother took over the leadership, they began to build the tour and charter side. Today, Mid-American's motor coaches serve St. Louis, Kansas City, Jefferson City, Springfield and Branson, carrying teams to sporting events and groups on day trips or weeks-long vacations to the most popular tourist destinations in the U.S. and Canada. Mid-American also plans its own trips throughout the year with many selling out within weeks of their announcements.
A friendly staff of 30 employees, including 10 experienced shop mechanics, keep Mid-American coaches pristine. Its 20,000-square-foot facility also provides maintenance for the high-end entertainer coaches traveling to nearby Branson. "A lot of the entertainers trust us to fix their coaches and we like that end of our business as well," said Jones.
Mid-American is a member of the International Motorcoach Group (IMG), a prestigious network of like-minded family owned motor coach operators with high standards in performance, safety, maintenance, customer service, driver training, equipment, operations and on-road support.
About MCI
Through its Canadian and U.S. subsidiaries, Motor Coach Industries Limited and Motor Coach Industries, Inc. (together, "Motor Coach Industries"), is North America's leader in motor coaches, offering the MCI® J4500, which is the industry's best-selling intercity coach for 11 consecutive years, and the MCI® D-Series, the industry's best-selling coach line in North American motor coach history. MCI is also the exclusive distributor of Setra® S 417 and S 407 in the United States and Canada. MCI actively supports over 28,000 motor coaches currently in service and offers 24-hour roadside assistance 365 days a year.
MCI also operates North America's most comprehensive aftermarket parts organization providing support for all types of transit buses and motor coaches. All buses and coaches are supported by an industry-leading comprehensive warranty, service and support network.