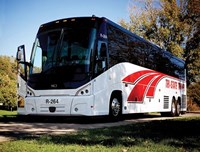 Motor Coach Industries ("MCI"), a subsidiary of New Flyer Industries Inc. (the "Company"), the largest bus and motor coach manufacturer in North America, notes that Tri-State Travel has grown up and expanded with the one-time farming destination of Galena, Illinois, now one of the Land of Lincoln's biggest tourist attractions and most environmentally savvy communities.
Founded in 1940 and now in its third generation of family ownership, green, innovative growth is familiar territory for Tri-State. With the latest in Cummins' low-emissions engine technology and amenities in safety and passenger comfort, Tri-State's over $5 million investment in ten 2017 MCI J4500s means they're running the greenest clean-diesel motor coaches today.
"Our passengers love the curb appeal and the ride of our new coaches and tell us they like the consistency in equipment as we are now a 100 percent MCI J4500 fleet," said Andrew Hillard, president and grandson of the founders. "This makes it easier to serve our customers and deliver the highest-quality product to them on a day-to-day basis."
Based in Galena, winner of the 2014 Governor's Sustainability Award, Tri-State has built a green story that's gone worldwide. In fact, Tri-State's newest MCI coaches will be dedicated to inbound international and regional clients with a specific focus on agricultural tourism and food and land sustainability.
"We're in farm country with a great tourism economy so we blend both of those elements with a lot of agricultural tours. We work with a company that hosts farmers from Europe," said Hillard. Those visitors include agricultural executives who want to view the operations of leading farms throughout the Midwest — including those still in the greater Galena area — and visit major agricultural landmarks in Illinois and Iowa, including Moline-based John Deere and the annual Farm Progress Show which moves throughout the region.
Why MCI
"We're dedicated to environmentally friendly transportation, and that's why we've committed to MCI's newest equipment. It helps us stay on top of the latest low-emissions technology, and we're able to serve our passengers with the latest amenities," said Hillard.
Global travelers as well as Tri-State's local clients want environmentally smart transportation and luxury — and the 2017 MCI J4500 delivers both. Tri-State's 25-coach fleet is now exclusively J4500 coaches less than 2.5 years old not only because the latest technology is the greenest, but because the J4500 leads the industry in low total cost of operation.
Tri-State's new coaches also include the optional Bendix collision mitigation system, 360-degree cameras and mirrors with lane departure signals, and seating by Amaya with three point-passenger seatbelts. All 25 coaches in Tri-State's fleet offer Wi-Fi connectivity and 110-volt outlets with the EPA-compliant Cummins engines and Allison transmissions.
Parts, service and training matter
Tri-State is an operator familiar with the expanding MCI North American parts and service operation. "Our technicians take regular advantage of the MCILearn webinar series and the hands-on regional training at MCI's Des Plaines facility," noted Hillard. "All Tri-State techs will be trained there."
Tri-State is also devoted to charter and tour clients — it serves universities, sports teams, family events as well as corporate and convention shuttles. The company also operates trolleys, vans and specialty vehicles. Seasonal travel is big as well — the company is already preparing for the baseball season.
The diversity of its customer base means Tri-State needs a parts and service support that keeps it on the road. "The more a manufacturer can do to streamline and speed up its parts delivery, on-call service and training options, the better, and MCI's clearly doing that," said Hillard. "Manufacturers just can't be suppliers anymore. They need to be partners in keeping their customers' businesses moving."
Building for future generations
Hillard began working his way up in the family business 20 years ago, starting in maintenance, through tour directing, driving and outside sales, and was elected to his current position two years ago. His father Mike Hillard is chairman and his uncle Mark, a master technician, oversees maintenance.
Andrew's cousin Corey Hillard directs Tri-State's sales operation and uncle Terry Fleege manages the Davenport office.
Hillard says the best thing about running a family owned business is the chance for family members and staff to spend more time together, though there are still challenges. "We're always looking for good drivers, and we take the necessary steps to recruit the best ones," he said.
"We're very proud of our fleet and our longstanding employees," which include 10 office staff members and 50 technicians and drivers. The company also just received the highest Department of Transportation safety rating and is building its transport work with the Department of Defense and the Rock Island arsenal. The company is also a member of the American Bus Association (ABA) and the Travel Alliance Partners (TAP).
About Motor Coach Industries
Motor Coach Industries is the largest transit bus and motor coach manufacturer and parts distributor in North America with fabrication, manufacturing, distribution and service centers in Canada and the United States and employs approximately 5,000 team members.
Through its Canadian and U.S. subsidiaries, Motor Coach Industries Limited and Motor Coach Industries, Inc., the Company is the leader in motor coaches in Canada and the U.S., offering the MCI® J4500, which is the industry's best-selling intercity coach for 11 consecutive years, and the MCI® D-Series, the industry's best-selling coach line in North American motor coach history. MCI is also the exclusive distributor of Setra® S 417 and S 407 in the United States and Canada. MCI actively supports over 28,000 motor coaches currently in service and offers 24-hour roadside assistance 365 days a year.
Through its Canadian and U.S. subsidiaries, New Flyer Industries Canada ULC and New Flyer of America Inc., the Company is North America's heavy-duty transit bus leader and offers the broadest transit bus product line (Xcelsior® and MiDi® models), incorporating the broadest range of drive systems available, including: clean diesel, natural gas, diesel-electric hybrid, electric-trolley and now battery-electric. New Flyer actively supports over 42,000 heavy-duty transit buses (New Flyer, NABI and Orion) currently in service.
The Company also operates North America's most comprehensive aftermarket parts organization providing support for all types of transit buses and motor coaches. All buses and coaches are supported by an industry-leading comprehensive warranty, service and support network.