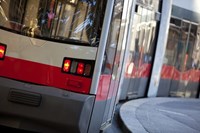 The second phase of the MYR21 billion (£4 billion) Sungai Buloh-Kajang Mass Rapid Transit line in Malaysia has entered operation. The line was officially launched at an event at Tun Razak Exchange Station, which was attended by the Prime Minister of Malaysia Dato' Sri Najib Razak. Mott MacDonald was responsible for the detailed design, modelling and construction supervision of three underground stations and four elevated stations on the line.
The 51km line features 31 stations and will serve the 1.2 million residents of the Klang Valley area of Kuala Lumpur. In the capital, there are 9.5km of tunnels with seven underground stations and two portals linking the above ground track to the underground.
Mott MacDonald designed and modelled the Tun Razak Exchange, Cochrane and Maluri underground stations and elevated stations at Taman Pertama, Taman Midah, Taman Mutiara and Taman Connaught. This included features such as tunnels and viaducts, vent and intervention shafts, link bridges, entrances to commercial buildings, platform and concourse areas, operational rooms, station entrances, landscaping and external works. Design services provided by the consultancy included architecture, building services, building information modelling (BIM), civil, structural, geotechnical and fire engineering, site supervision and other rail-associated disciplines.
William Goh, Mott MacDonald's territory manager for Malaysia, said: "We employed over 100 staff from around the world to work on this prestigious project who provided leading engineering, management and architectural design services. This collaboration showcases both our truly global reach and cutting-edge technical capabilities."
"This scheme is one of the largest Mott MacDonald projects to undertake the detailed design for architecture, structures and building services using Revit BIM software," William added.
About Mott MacDonald
Mott MacDonald is a global engineering, management and development consultancy focused on guiding our clients through many of the planet's most intricate challenges.