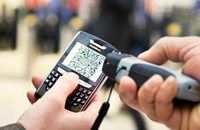 Committees of the Metropolitan Transportation Authority Board today registered their approval of a contract to launch a mobile ticketing program that for the first time would enable Metro-North Railroad and Long Island Rail Road customers to buy and display train tickets on their smartphones and tablets. The contract, with Masabi, LLC, moves to the full MTA Board for final consideration on Wednesday.
Through the program, LIRR and Metro-North customers would be able to purchase a train ticket before boarding by using a smartphone, tablet, or other mobile device, and then display the ticket on screen for inspection by a conductor. Conductors would visually verify the digital ticket in the same way that paper monthly and weekly tickets are verified today or could use handheld devices to scan and validate tickets through a process similar to reading a barcode or QR code.
The convenient new option would let railroad customers avoid waiting in line to buy tickets at stations. It would complement the recently released commuter railroad Train Time apps, which have proven immensely popular with customers.
"This is a step forward as we look to use the latest technologies available to make fare payment at all our agencies easier, faster, and more convenient," said Thomas F. Prendergast, Chairman and CEO of the MTA.
"More convenient ticketing options means a better experience using the train," said Metro-North President Joseph Giulietti. "We want to make riding the train as easy and convenient as we can. We now offer real-time train status via app, and this next step – tickets via app – promises to be another big step toward increased convenience."
"More and more of our customers are using smartphones and tablets when they ride with us," said LIRR President Helena E. Williams. "Being able to buy tickets and display them through an app will make it that much easier to take the train, and it will mean that customers who aren't carrying cash can still buy a ticket while on the go."
The railroads offer four main types of tickets: one-way, ten-trip, monthly and weekly. (Round-trip tickets consist of two one-way tickets.) One-way and ten-trip tickets come in either the peak or discounted off-peak varieties. While all ticket types could potentially be offered through mobile ticketing, not all would necessarily be offered at first. Each railroad may roll-out mobile ticketing through a phased-in approach.
Metro-North Railroad, which handled this procurement for itself and the LIRR, received 11 proposals seeking a mobile ticketing supplier in March 2013. Masabi was one of four firms that were short-listed for more intensive evaluation.
Masabi is also implementing mobile ticketing programs for MBTA Commuter Rail in Boston, MTS in San Diego, and NICE Bus on Long Island.
About MTA
The Metropolitan Transportation Authority is North America's largest transportation network, serving a population of 15.2 million people in the 5,000-square-mile area fanning out from New York City through Long Island, southeastern New York State, and Connecticut