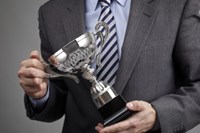 MTR Corporation's contributions to enhancing railway operations and delivering high-quality passenger service in London were recognised with major honours at the National Rail Awards in the United Kingdom recently.
In recognition of another year of excellent performance on the London Overground, London Overground Rail Operations Limited (LOROL), the MTR Corporation's 50:50 joint venture with Arriva (a subsidiary of Deutsche Bahn), was presented with the prestigious Passenger Operator of the Year award. The fleet management team of the Corporation's wholly owned subsidiary MTR Corporation (Crossrail) Limited (MTR Crossrail), which operates TfL Rail as the first phase of the future Elizabeth line, was honoured for its outstanding achievements with the Maintenance Team of the Year award.
In addition, LOROL Driver Samantha Butler was recognised for her dedication and commitment to the industry, receiving the Outstanding Personal Contribution award.
"To be recognised as being among the very best in the U.K. railway industry is a big honour and reflects the day-to-day hard work, dedication and achievements of our colleagues at LOROL and MTR Crossrail. It also shows how MTR's extensive experience and expertise in railway operations and maintenance can help to improve reliability and service standards in major international cities such as London. I would like to extend my warm thanks and appreciation to all colleagues for their contributions," said Mr Lincoln Leong, Chief Executive Officer of MTR Corporation.
The judging panel for the National Rail Awards commended LOROL for continuing to transform the Overground, including through network expansion and capacity enhancement with the introduction of a new five-car fleet of trains, while maintaining its focus on customer service quality, innovation and developing strong community links.
MTR Crossrail's fleet management team was praised for "a spectacular performance achieved in a short time" for delivering the full fleet refreshment of older generation trains and marked improvements in service reliability and availability, contributing to enhanced customer satisfaction.
About MTR Corporation
MTR Corporation is regarded as one of the world's leading railway operators for safety, reliability, customer service and cost efficiency. In its home base of Hong Kong, the Corporation operates nine commuter railway lines, a Light Rail network and a high-speed Airport Express link on which more than 5.5 million passenger trips are made on a normal week day. Another 5 million passenger trips are made on the rail services it operates outside Hong Kong in the Mainland of China, the United Kingdom, Sweden and Australia. In addition, the Corporation is involved in a range of railway construction projects as well as railway consultancy and contracting services around the world. Leveraging on its railway expertise, the Corporation is involved in the development of transit-related residential and commercial property projects, property management, shopping malls leasing and management, advertising media and telecommunication services.