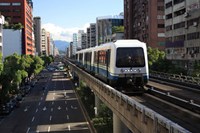 Members of the MTR Board of Directors and MTR executives were updated on the latest progress of the Sydney Metro Northwest yesterday (9 November 2016) on the final day of a three-day visit to Australia. During site visits to the Sydney districts of Rouse Hill and Castle Hill, they also viewed a station design prototype and a 13-tonne life-sized model of the metro trains that will operate along the 36-km line from 2019.
Sydney Metro Northwest is Stage 1 of Sydney Metro, Australia's largest public transport project. MTR is participating in Sydney Metro Northwest as a member of the Northwest Rapid Transit Consortium that was awarded the Operations, Trains and Systems Public-Private-Partnership contract in 2014. The Corporation will take the lead in railway operations starting from 2019.
MTR Board members and executives also visited Melbourne earlier in the week for a first-hand look at the city-wide metropolitan railway network that is operated by the Corporation's subsidiary, Metro Trains Melbourne (MTM).
"Nothing beats the experience of seeing our railway operations and projects in Australia at first hand and also meeting the teams who are working hard to deliver great railway services to their communities. We are happy to see that the Sydney project is on programme and that we are continuing to deliver service improvements and enhancements to our passengers in Melbourne," said Professor Frederick Ma, Chairman of MTR Corporation.
"This visit has been an invaluable opportunity for our Board members to see how the expertise and experience developed by MTR in Hong Kong over the years is helping both Melbourne and Sydney to develop better transport networks to serve the needs of commuters and foster growth and development. We have also been able to talk to our partners and stakeholders and learn more about the current situation in Australia, which has enabled us to better understand both the challenges and future opportunities for our business in Australia," he added.
About MTR Corporation
MTR Corporation is regarded as one of the world's leading railway operators for safety, reliability, customer service and cost efficiency. In its home base of Hong Kong, the Corporation operates nine commuter railway lines, a Light Rail network and a high-speed Airport Express link on which more than 5.5 million passenger trips are made on a normal week day. Another 5 million passenger trips are made on the rail services it operates outside Hong Kong in the Mainland of China, the United Kingdom, Sweden and Australia. In addition, the Corporation is involved in a range of railway construction projects as well as railway consultancy and contracting services around the world. Leveraging on its railway expertise, the Corporation is involved in the development of transit-related residential and commercial property projects, property management, shopping malls leasing and management, advertising media and telecommunication services.
Metro Trains Melbourne
Metro Trains Melbourne is a 60% owned subsidiary of MTR Corporation that was awarded the Operations and Maintenance concession for Melbourne's metropolitan train service in 2009. Since then, a sharp focus on delivering quality and customer service improvements has lifted performance standards across the board including improvements in punctuality, safety, asset management and customer satisfaction.
Average weekday patronage is 840,000 on a 390-km railway network with 218 stations. MTM employs more than 5,000 people and won the 2016 Victorian Large Employer of the Year Award and the 2016 Victorian Employer Award for Apprentice Development.
Northwest Rapid Transit Consortium
The Northwest Rapid Transit Consortium, of which MTR Corporation is a member, was awarded the Operations, Trains and Systems (OTS) Public-Private Partnership contract for the Sydney Metro Northwest project in 2014.
Under the OTS contract, MTR Corporation will be responsible for the procurement and construction of E&M systems and rolling stock, and the future operation of the 36-km line which will be Australia's first fully-automated metro rail system when it opens in 2019.