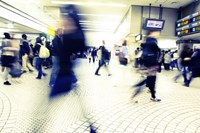 MTR customers will soon enjoy a new and more personalised travelling experience as MTR Corporation launches a series of digital initiatives under the Rail Gen 2.0 programme. Starting from 4 September, the easy-to-use MTR Mobile app, which has accumulated over 3.3 million downloads, will offer two new functions - "In-station Finder" and "Fast Exit". The Traffic News function will also be enhanced. By leveraging on the advancement of new technology, the Corporation aims to provide a more personalised service to customers.
To serve as the pilot station for the "In-station Finder", Admiralty Station has been equipped with Beacon devices which facilitate indoor navigation using Bluetooth transmission. The new function will allow users at the mega station to more easily find their way to interchange platforms and station facilities. In the first month of launch, users also have a chance to win prizes in the designated non-peak periods every day.
"Fast Exit", applicable to all heavy rail stations, is another highlight. By entering the starting and ending points of their journey, this function would recommend passengers to board the specific train car and door, which is the nearest to the station exit of their destinations.
The existing Traffic News function provides timely operational and alternative transportation information to passengers during extended train service delays. To further facilitate passengers to plan their journeys ahead, Green, Yellow and Red lights will be used to represent the real-time status of each rail line in the mobile app and MTR website. In addition, the Corporation will add a hyperlink to Citymapper to provide passengers with comprehensive alternative transport information according to their needs when train service incidents occur.
Digitization is not only limited to service initiatives but also "Art in Station". "Playcode" is a newly launched giant art piece at Admiralty Station. It features an interactive design with QR codes which passengers can scan to obtain the latest information on "Art in MTR".
Announcing these new initiatives today (31 August 2017), Commercial Director of MTR Corporation Ms Jeny Yeung said: "Under Rail Gen 2.0, apart from major asset upgrades such as purchasing new trains and upgrading signalling systems, we endeavour to deliver satisfying MTR journeys to our customers all the time. With new technology, we want to provide more personalised information and service to our customers. What was not possible before can now be delivered through new technology. We will continue to pay attention to the development of new technology in the future, and constantly explore new opportunities to enhance our service."
About MTR Corporation
MTR Corporation is regarded as one of the world's leading railway operators for safety, reliability, customer service and cost efficiency. In its home base of Hong Kong, the Corporation operates ten commuter railway lines, a Light Rail network and a high-speed Airport Express link on which about 5.6 million passenger trips are made on a normal week day. Another 5.6 million passenger trips are made on the rail services it operates outside Hong Kong in the Mainland of China, the United Kingdom, Sweden and Australia. In addition, the Corporation is involved in a range of railway construction projects as well as railway consultancy and contracting services around the world. Leveraging on its railway expertise, the Corporation is involved in the development of transit-related residential and commercial property projects, property management, shopping malls leasing and management, advertising media and telecommunication services.