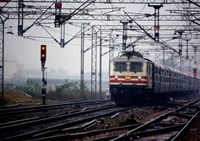 Since the announcement in March 2015 that the signalling systems for six MTR lines and the Airport Express would be replaced at a cost of HK$3.3 billion, MTR Corporation has been working in full swing on the replacement programme while maintaining normal train service. With the Tsuen Wan Line being the first railway line to undergo the replacement, the contractor is now installing new signalling equipment along the line progressively and has kicked off train testing during the non-service hours.
Starting this month, passengers travelling on Tsuen Wan Line trains may notice a new equipment cabinet installed in the first and last train cars. Inside the cabinet there is a set of signalling equipment to communicate with the new signalling system using advanced Communications Based Train Control (CBTC) technology. With the addition of this new signalling equipment, the trains can be switched to operate with CBTC technology from the existing mode for testing during non-service hours and would be switched back to the existing mode for daily passenger service. The installation of signalling equipment cabinets on all Tsuen Wan Line trains is being progressively carried out generally in line with the signalling system replacement programme.
Testing with trains installed with CBTC system has commenced and covered the section between Mei Foo, Lai Chi Kok and Cheung Sha Wan stations during non-service hours. The testing will be progressively extended to Tsuen Wan Station in the first half of this year, while testing for the section between Sham Shui Po and Central stations is scheduled to progressively commence in the second half of the year.
Meanwhile, signalling replacement works for the East Rail Line, which play a vital role in converting the historical railway line to the future North South Corridor of the Shatin to Central Link (SCL), are also progressing well. The first phase of train testing between Racecourse and University stations commenced late last year and the testing will be further extended to Fo Tan, Tai Po Market, Tai Wo and Fanling stations in the first half of this year. The Corporation has carried out extensive risk assessment covering all possible risks during the different stages of signalling replacement works and testing. In case of any railway service delay, suitable measures would be activated, including deploying more staff to the affected stations to assist customers and disseminating train information to passengers through different channels, while every effort would be made to restore service as soon as possible.
"The new signalling systems will allow us to increase the capacity of the relevant rail lines by providing more frequent and convenient train service to customers. While the signalling replacement works for both the Tsuen Wan Line and East Rail Line are progressing well, our team of engineers and contractors will continue to work closely in a prudent and professional manner to assure that any impact to customers and train service would be kept to a minimum," said Mr Adi Lau, Operations Director of MTR Corporation. "I appeal to customers for their understanding if any unexpected hiccup occurs. We shall do our best to restore service quickly while providing timely information and assistance."
About MTR Corporation
MTR Corporation is regarded as one of the world's leading railway operators for safety, reliability, customer service and cost efficiency. In its home base of Hong Kong, the Corporation operates ten commuter railway lines, a Light Rail network and a high-speed Airport Express link onwhich more than 5.5 million passenger trips are made on a normal week day. Another 5 million passenger trips are made on the rail services it operates outside Hong Kong in the Mainland of China, the United Kingdom, Sweden and Australia. In addition, the Corporation is involved in a range of railway construction projects as well as railway consultancy and contracting services around the world. Leveraging on its railway expertise, the Corporation is involved in the development of transit-related residential and commercial property projects, property management, shopping malls leasing and management, advertising media and telecommunication services.