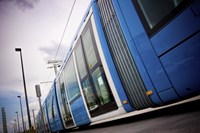 In a significant expansion of its railway business in Sweden, MTR Corporation commenced the operations and maintenance concession for the Stockholm Pendeltåg commuter rail service yesterday (11 December 2016) through its wholly owned subsidiary MTR Pendeltågen AB. Carrying around 87 million passengers a year on a 241-km rail network with 53 stations, the commuter rail connects the Swedish capital city with surrounding areas. It has become MTR's third railway service in Sweden after the Stockholm Metro and the MTR Express intercity service between Stockholm and Gothenburg.
Under a 10-year concession with a four-year extension option awarded in December 2015, MTR Pendeltågen AB will be responsible for commuter rail train operations, station management and rolling stock maintenance.
"Our focus for the Pendeltåg network is to progressively deliver enhancements in the reliability and efficiency of the train service and to improve customer satisfaction. We will be adding 150 extra customer-facing staff to provide more assistance to our passengers. We will also be refurbishing the trains and the stations and installing better lighting systems to provide a more comfortable, welcoming and secure travelling environment," said Mr Lincoln Leong, Chief Executive Officer of MTR Corporation.
MTR will also work closely with the relevant transport and infrastructure authorities on the opening of the newly built Stockholm City Line (Citybanan) in 2017 which will provide two new stations and a dedicated tunnel for commuter trains through central Stockholm to enhance capacity in the busiest section of Sweden's rail network. New trains will be added to the Stockholm Pendeltåg fleet in conjunction with the start of the City Line service.
MTR Corporation
MTR Corporation is regarded as one of the world's leading railway operators for safety, reliability, customer service and cost efficiency. In its home base of Hong Kong, the Corporation operates nine commuter railway lines, a Light Rail network and a high-speed Airport Express link on which more than 5.5 million passenger trips are made on a normal week day. Another 4.9 million passenger trips are made on the rail services it operates outside Hong Kong in the Mainland of China, the United Kingdom, Sweden and Australia. In addition, the Corporation is involved in a range of railway construction projects as well as railway consultancy and contracting services around the world. Leveraging on its railway expertise, the Corporation is involved in the development of transit-related residential and commercial property projects, property management, shopping malls leasing and management, advertising media and telecommunication services.