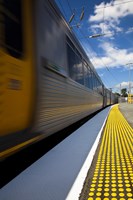 The Rt Hon Robert Goodwill MP, Minister of State for Transport of the United Kingdom paid a visit to MTR Corporation in Hong Kong today (3 June 2016) and experienced the premiumquality service of the Airport Express which provides the fastest connections between Hong Kong International Airport and the city centre.
After enjoying a ride to Kowloon Station, Mr Goodwill paid a visit to the future West Kowloon Terminus of the Hong Kong Section of the Guangzhou-Shenzhen-Hong Kong Express Rail Link (XRL) to see the latest works progress.
"I was very pleased to learn more about MTR's impressive infrastructure projects and to see at first-hand how UK contractors are contributing advanced engineering capabilities. MTR also plays an important role in the delivery of first class transport services in the UK particularly London's Crossrail. I'd also like to thank MTR for their excellent work on London Overground," said Mr Goodwill.
During his visit, Mr Goodwill was received by senior management representatives of MTR Corporation including Mr Morris Cheung, European Business Director, Ms Gill Meller, Legal Director and Secretary, Dr Peter Ewen, Engineering Director, Mr Simon Tang, General Manager - XRL and Mr Terry Wong, General Manager - Corporate Finance and Development.
About MTR Corporation
MTR Corporation is regarded as one of the world's leading railway operators for safety, reliability, customer service and cost efficiency. In its home base of Hong Kong, the Corporation operates nine commuter railway lines, a Light Rail network and a high-speed Airport Express link on which more than 5.5 million passenger trips are made on a normal week day. Another 5 million passenger trips are made on the rail services it operates outside Hong Kong in the Mainland of China, the United Kingdom, Sweden and Australia. In addition, the Corporation is involved in a range of railway construction projects as well as railway consultancy and contracting services around the world. Leveraging on its railway expertise, the Corporation is involved in the development of transit-related residential and commercial property projects, property management, shopping malls leasing and management, advertising media and telecommunication services.