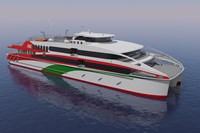 Förde Reederei Seetouristik decides in favour of four 16V 4000M63L engines from MTU and four Kamewa Waterjets from Rolls-Royce
Australian shipyard Austal to build 56m long aluminium catamaran
The high-speed ferry to enter service in spring 2018
Rolls-Royce has received an order from the Förde Reederei Seetouristik (FRS) Shipping Group in Flensburg to supply four 16-cylinder MTU Series 4000 engines and four Kamewa S71 waterjets. They have been chosen to power a new 56 metre long catamaran to be constructed by the Australian shipyard Austal. The new high-speed ferry is to replace the popular Halunder Jet operated by FRS Helgoline and takeover its Hamburg – Wedel - Cuxhaven - Helgoland route. The MTU brand is part of Rolls-Royce Power Systems.
The Förde Reederei Seetouristik Shipping Group has favoured MTU products for many years now. The Halunder Jet, which is currently in service, and a further 7 high-speed ferries operated by the shipping group on international ferry and catamaran lines, are all powered by MTU's Series 4000, 2000 and 396 engines. The Halunder Jet has been operating a shuttle service to Helgoland every day between April and October since 2003, and during this time has completed 22,000 hours of reliable operation.
In the choice of engines for the new catamaran, the technical concept of the Series 4000 Ironmen engines was a major factor. With its common rail fuel injection system, it is very economical and friendly to the environment. The extremely robust Series 4000 Ironmen version was developed specifically for work boats in 2008 and is particularly liked for its extended maintenance intervals and low fuel consumption.
Jan Kruse, CEO of Förde Reederei Seetouristik said: "We made a conscious decision in favour of the Ironmen from MTU. We were very impressed by the extended maintenance intervals, combined with what is nevertheless an excellent power to weight ratio and the low fuel consumption. The MTU engines were thus the right choice for us, but their dynamic acceleration behaviour was also a key factor, of course."
The new design of the high-speed ferry also features several impressive key technologies, including an optimised hull form designed to minimise both fuel consumption and wake wash. This makes the catamaran ideal for operating on the River Elbe and on the North Sea between Helgoland and the Port of Hamburg. During the development of the twin-hulled vessel, both the shipping company and the shipyard also focused their attention in particular on seaworthiness and passenger comfort.
The all-aluminium catamaran is scheduled to begin ferrying as many as 692 passengers on each crossing as of spring 2018. The high-speed ferry, which can operate at speeds of up to 35 knots, will thus increase the daily capacity on the Hamburg – Helgoland catamaran line by 20 per cent compared with the Halunder Jet, which is currently in operation. After it is retired from service, it will go to Clipper Navigation, an FRS subsidiary, and support the expansion of the services in North West America.
About MTU
MTU is one of the world's leading manufacturers of large diesel engines and complete propulsion systems. Our robust and durable engines reliably propel large ships, heavy agricultural and rail vehicles, and industrial applications.