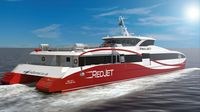 Red Funnel high-speed fleet powered exclusively by MTU engines
New catamaran powered by four Type 10V 2000 M72 MTU engines
Red Jet 6 – the fleet's greenest vessel
The latest addition to the British Red Funnel ferry fleet, Red Jet 6, completed successfully the first sea trials in June 2016 and will go into service in July. The high-speed catamaran ferry was built in Britain by Shemara Refit on the Isle of Wight with Rolls-Royce supplying four MTU Type 10V 2000 M72 engines and ZF Type 3050D gearboxes. The MTU brand is part of Rolls-Royce Power Systems.
Red Jet 6 is the most modern vessel in the Red Funnel fleet. Powered by four 900 kilowatt Series 2000 MTU engines, the catamaran is capable of service speeds up to 38 knots and has twice as many engines as it's three sister ships which are also powered by MTU.
Peter Morton, Managing Director at Shemara Refit LLP explained: "We increased the number of engines from two to four to enhance redundancy. If the need arises, the engines can be shut down individually and the ferry can maintain the service running on three engines with only minor reduction in speed"
Each of the MTU engines powers a waterjet whilst the ZF gearboxes ensure smooth transmission of power. The catamaran will run every half hour, ferrying passengers between Southampton on the British mainland and the Isle of Wight. The distance of 9.9 nautical miles will be crossed in 23 minutes.
Red Funnel's Mark Slawson, Fleet & Technical Director said: "We've used MTU engines exclusively in our high-speed fleet since the 1980s as their low operating costs and outstanding power-to-weight benefits make them ideal for the stop-start nature of our operation. The benefits of the quad propulsion package fitted to Red Jet 6 is reduced fuel consumption and fewer cancellations to remove waterjet obstructions."
Together with a combination of various design features, the vessel's engines mean it is significantly more fuel-efficient than its sister vessels Red Jet 3, Red Jet 4 and Red Jet 5. The new catamaran is certified with the environmental management standard ISO 1400:1 and is the greenest ship in the fleet. At over 40 meters in length and able to carry up to 275 passengers, Red Jet 6 is also the largest vessel in Red Funnel's high-speed fleet.
Bruce Phillips, Managing Director at MTU UK said: "Red Jet 6 is the first vessel of its kind to be built in Great Britain in the last 15 years. We are very pleased with the results of our first joint project with Shemara Refit. Construction of Red Jet 6 has been an impressive process and we are delighted to have supplied MTU power to this new high-speed vessel."
Red Funnel vessels have been ferrying passengers between the mainland and the Isle of Wight for almost 155 years and the company currently carries around 3.4 million passengers on the route every year.
About MTU
MTU is one of the world's leading manufacturers of large diesel engines and complete propulsion systems. Our robust and durable engines reliably propel large ships, heavy agricultural and rail vehicles, and industrial applications.