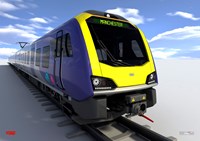 MTU Series 1800 PowerPacks meet strict emissions directives
Rolling stock from CAF for Deutsche Bahn subsidiary Arriva
To go into service in the north of England from December 2018
Rolls-Royce is to supply 140 environmentally-friendly MTU Series 1800 PowerPacks to Spanish rolling stock manufacturer CAF. The PowerPacks, featuring the 6H 1800 R85L engine, meet the stringent demands of the EU Stage IIIB emissions directive. They are set to power a total of 55 regional trains planned go into service in northern England from December 2018. Arriva Rail North, a subsidiary of the main German rail operator Deutsche Bahn, will operate the trains. The MTU brand is part of Rolls-Royce Power Systems.
Bernd Krüper, Vice President Industrial Business at MTU, said: "We are delighted at having been able, once again, to convince demanding customers in the rail sector of the performance and reliability of our innovative, proven traction solutions."
The MTU PowerPacks for CAF will deliver 390 kW of power output. A built-in SCR unit will reduce the amount of nitrogen oxide produced, thereby meeting the strict requirements of the EU Stage IIIB emissions directive. Key characteristics of the Series 1800 engines include their high power density and low levels of consumption.
The 55 newly developed British Rail Class 195 diesel railcars – comprising 25 two-car and 30 three-car vehicles – are planned to be used on the future Northern Connect network in the north of England. Northern Connect will link the major cities of Liverpool, Manchester, Sheffield, Leeds and Newcastle with other towns and cities in the region, including Chester, Barrow-in-Furness, Nottingham and Hull. The trains will reach maximum speeds of 160 kilometres per hour.
MTU's innovative traction and service solutions have been a staple feature of rail transport in the UK for over 60 years now, with more than 1,000 MTU engines currently used in passenger trains in Great Britain.
The British Rail Class 195 trains represent the largest of several joint rail projects between Rolls-Royce and CAF: In Northern Ireland, Italy (Sardinia) and Saudi Arabia, for example, CAF trains were also equipped with MTU engines.
About MTU
MTU is one of the world's leading manufacturers of large diesel engines and complete propulsion systems. Our robust and durable engines reliably propel large ships, heavy agricultural and rail vehicles, and industrial applications.