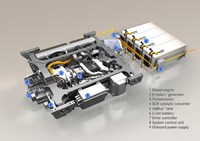 MTU Hybrid PowerPack and MTU EnergyPack available immediately for ordering
MTU Series 4000 rail engines for use even under extreme environmental conditions
Comprehensive service solutions throughout the entire service life of products
Rolls-Royce is to present its current and pioneering MTU-branded drive systems and service solutions at international railway exhibition Innotrans from 20 to 23 September 2016. Centre-stage in Hall 18, Stand 301, will be the MTU Hybrid PowerPack, the MTU Series 4000 locomotive engines and the company's enhanced service offering to rail customers. The MTU brand is part of Rolls-Royce Power Systems.
After several years of development work and trials, Rolls-Royce will be showing the MTU Hybrid PowerPack for the first time as a fully-finished product immediately available for ordering. After trials also involving test runs totalling around 15,000 kilometres, the Hybrid PowerPack can now be supplied to customers with immediate effect as an environmentally compatible, cost-saving drive solution. Rolls-Royce will also be presenting an innovation in the form of the MTU EnergyPack battery system specially developed to meet the requirements of rail operators, which complies with all relevant rail standards and has proven its reliability during endurance trials.
The Hybrid PowerPack teams a diesel engine with a combined electric motor and alternator plus a battery system for storing energy reclaimed during braking. This enables fuel savings of up to 25% and a significant reduction in noise emissions compared with a diesel-only drive system featuring modern MTU engines. The drive solution is suitable both for newly developed systems and also for repowering existing rolling stock, and can also be used in conjunction with a pantograph (electricity consumer in electrical locomotives). This means that, in a wide range of different applications and scenarios, the MTU Hybrid PowerPack can help protect the environment and, at the same time, save money.
MTU PowerPacks are compact drive systems which include not just the engine and power train but all ancillary components necessary to power the vehicle, such as the cooling system and exhaust aftertreatment. MTU developed the PowerPack concept 20 years ago – the first supplier to do so – and has since delivered over 6,000 of these compact systems to rail customers across the world.
Also tried-and-trusted across the world are MTU's Series 4000 locomotive engines. In a variety of emission levels, they cover a power range from 850 to 3,300 kW. They are used to propel passenger and goods trains as well as special-purpose vehicles on all continents, sometimes in the most testing of environments: at high altitude, in the freezing cold, in sweltering heat and even in sandstorms. In all of this, they excel with high reliability and high power output, yet with a compact, space-saving design. Over 2,800 Series 4000 rail engines have been shipped since 1996. On show at the stand will be the most powerful member of the Series 4000 family: the 20V 4000 R63L, delivering 3,300 kW. This MTU engine type is used in South Africa to power 232 goods locomotives made by Chinese manufacturer CRRC. The first locomotives were recently handed over to operator Transnet Freight Rail.
As a system partner to the rail industry, Rolls-Royce also offers customers of MTU products wide-ranging services throughout the entire lifespans of its drive solutions. The MTU ValueCare range includes customised maintenance contracts, rapid supply of spare parts and consumables such as engine coolant, engine oil and filters and also remanufactured engines and parts. Complementing this line-up are "remote services" which use the ability to gather and analyse operating data on a web-based application to help ensure effective operation and the best-possible maintenance for customer investments.
About MTU
MTU is one of the world's leading manufacturers of large diesel engines and complete propulsion systems. Our robust and durable engines reliably propel large ships, heavy agricultural and rail vehicles, and industrial applications.