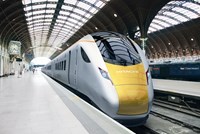 Rolls-Royce is to supply additional Series 1600 MTU PowerPacks to Hitachi Rail Europe, and will assume responsibility for their maintenance from 2017. The length of the maintenance contract runs for the 27.5-year lifetime of Hitachi's service and maintenance contract for the Intercity Express Programme (IEP). The MTU brand is part of Rolls-Royce Power Systems.
Bernd Krüper, Vice President Industrial Business at MTU, said: "We are proud that, once again, Hitachi has chosen our drive and service solutions, and we look forward to continuing and deepening this partnership."
Back in 2012, Hitachi Rail Europe selected MTU to supply 250 PowerPacks for the Class 800 and 801 IEP trains. A contract for the delivery of additional PowerPacks for the IEP project has now been signed.
MTU is to guarantee the availability of its drive systems through the lifetime of Hitachi's contract for IEP. The full-service maintenance agreement covers both preventive maintenance and any repairs and major overhauls.
Denise Kurtulus, Director, Sales Services at MTU, commented: "Operating the IEP trains calls for maximum operational availability and reliability, so we're especially delighted to have succeeded in winning Hitachi over with our all-round proposition and our many years of experience in rail maintenance contracts in the UK."
MTU had already supplied the engines for the current generation of the UK's Class 43 High Speed Trains, also assuming full preventive and corrective maintenance work under a major all-round service arrangement. The trains are known for their outstanding levels of operational availability. Service responsibility lies with MTU's UK subsidiary, MTU UK Ltd, based in East Grinstead (West Sussex).
Andy Rogers, Projects Director at Hitachi Rail Europe, commented on the announcement:
"We look forward to continuing our work with MTU who have embedded themselves in a number of Hitachi's sites. Our close working relationship with MTU will ensure the UK's next generation of Intercity trains delivers an enhanced level of service resilience and reliability."
About MTU
MTU is one of the world's leading manufacturers of large diesel engines and complete propulsion systems. Our robust and durable engines reliably propel large ships, heavy agricultural and rail vehicles, and industrial applications.