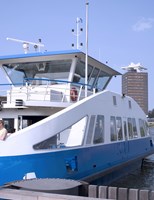 Advanced-design diesel marine propulsion systems (IMO III/ EPA Tier 4)
New gas engine for work boats and ferries (IMO III/ EPA Tier 4)
New compact and adjustable SCR system from MTU
Rolls-Royce will be presenting new MTU brand propulsion systems designed to meet IMO III and EPA Tier 4 emission regulations for commercial, off-shore and military vessels and yachts, at the SMM International Maritime Trade Fair from 6 to 9 September 2016. "With the introduction of our new and advanced diesel and gas engines, in addition to our proven and robust propulsion systems, we are now offering our customers in the maritime industry the latest green and high-tech developments for the coming decades," said Dr. Ulrich Dohle, CEO of Rolls-Royce Power Systems AG. Rolls-Royce will also be presenting its current portfolio of medium-speed marine engines, bridge systems and propellers on Stand 305, in Hall 3A.
Advanced-design MTU propulsion systems for work boats, off-shore and governmental vessels, ferries and yachts (IMO III/ EPA Tier 4)
With a number of technical advances incorporated in the turbocharger system, the combustion process and in the fuel injection system, MTU will be marketing Series 4000 engines as of 2018 that have now been further optimised and will deliver increased performance (1.380 – 3.200 Kilowatt) for work boats, off-shore vessels, ferries and government vessels. A 20-cylinder version is to be launched for the first time for these applications. With the new SCR exhaust gas aftertreatment system, which has also been developed by MTU, the advanced engines will meet IMO III and EPA Tier 4 emission requirements. This will reduce NOx emissions by around 75 per cent and particulate emissions by around 65 per cent. An additional diesel particulate filter will not be required. The Series 4000 engines for yachts will be slightly modified and marketed with MTU's SCR system, which will meet IMO III regulations as of 2017.
Compact and adjustable: the new SCR system from MTU
With the integrated system for IMO Tier III and EPA Tier 4 consisting of MTU's propulsion system and SCR exhaust gas aftertreatment system, the customer will benefit from an optimally matched system. It requires a minimum of installation space and features an excellent power to weight ratio. The exhaust gas aftertreatment system is extremely compact due to the integration of the reactant preparation section in the SCR box. MTU's SCR system is not preset as is usually the case, but is adjustable. It measures the emissions upstream and downstream of the SCR system and precisely regulates the amount of reactant introduced into the system.
New MTU gas engine for work boats and ferries (IMO III)
The new MTU gas engine for marine applications has already successfully completed 3,000 hours on the test bench. An exhibit will be on display for demonstration purposes. Dr. Ulrich Dohle, CEO of Rolls-Royce Power Systems AG, said: "We can now confirm that the engine meets both our requirements and those of our customers: its performance and its acceleration behaviour are similar to the excellent characteristics of a diesel engine. It is economical, reliable and clean." As of 2018, MTU will deliver the first certified series production gas engines for commercial vessels. The new MTU gas engine will meet IMO III emission standards with no additional exhaust gas treatment. As a result of its dynamic acceleration behaviour, its low environmental impact, reliability and economy, it is ideally suited to tugboats, ferries, push boats and special purpose vessels such as research vessels.
Advanced-design diesel genset for submarines now available
At the SMM, MTU will also be presenting a model of its advanced-design, Series 4000-based diesel genset for submarines, which has a power output of 1,300 kW. The company began delivering the first units this year. It is designed to exploit the potential of Li-on battery technology to the full and provides significantly reduced charging cycles. As a result of the new genset's lower fuel consumption, the operational range of the vessels with the same size fuel tank has also been increased.
Combined diesel and gas propulsion systems and automation systems
As a systems provider, MTU is also able to develop and supply propulsion solutions which include ship automation systems. The exhibition stand will include a model of a vessel with a propulsion system developed by MTU and incorporating a combination of diesel engines and gas turbines for maximum operational efficiency and flexibility (Combined Diesel and Gas Turbine – CODAG). On the stand, the system is exhibited in conjunction with Callosum, the latest, user-friendly automation system developed by MTU. Callosum allows monitoring and optimized control of the vessel's propulsion system as well as all on-board ship systems. It has proved its effectiveness in demanding operational assignments with numerous navies and coast guard authorities.
Diesel genset for on-board power supply
Also on show will be a genset model based on the Series 4000. The product is offered by MTU as a diesel-electric propulsion unit or on-board power generator specifically for commercial applications such as supply vessels for offshore oil and gas platforms. Gensets in this product family comprise a working vessel engine of the proven Series 4000 "Ironmen" design with either 8, 12 or 16 cylinders, a generator and the electronic control system all mounted on a common base frame and offering electrical outputs ranging from 720 to 2,140 kWe.
MTU Service to present reman engines and remote services
As a system partner of the marine industry, Rolls-Royce also provides MTU product customers with a comprehensive range of services for the entire service life of the propulsion systems. MTU's ValueCare portfolio, in addition to customer specific maintenance contracts, also includes fast response replacement parts supply, plus consumables such as coolants, engine oil and filters, in addition to reman engines and parts. MTU additionally provides remote services to support the effective operation of the vessels and optimised maintenance services by making operational data and its evaluation available on a web-based portal.
Launched at the SMM 20 years ago: the MTU Series 4000 engines
In September 1996, MTU launched its Series 4000 engines as the world's first series of high-speed diesel engines in its power range with electronically controlled common rail fuel injection – a technological milestone. A year later, the launch of the series was completed for the marine, rail and mining applications that were available at that time. In 2008, an extremely robust and economic version of the Series 4000 engine was marketed as the "Ironmen" engine specifically for work boats. With longer maintenance intervals and low consumption, it has been a major factor behind MTU's increased presence in this market. With the experience gained from 36,000 engines in service covering all applications and from around 180 million operating hours, MTU is now working on the third generation of its common rail fuel injection technology.
About MTU
MTU is one of the world's leading manufacturers of large diesel engines and complete propulsion systems. Our robust and durable engines reliably propel large ships, heavy agricultural and rail vehicles, and industrial applications.