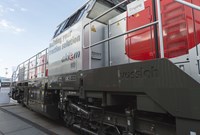 44 MTU 12V 4000 R84 rail engines with a rated output of 1,800 kW
Engine emissions 50 per cent lower than required by EU Stage IIIB
Series 4000 engines have been in operation worldwide for 20 years
Rolls-Royce has signed a letter of intent with Vossloh Locomotives GmbH for the delivery of 44 ultra-low emission MTU Series 4000 rail engines. The emission levels achieved by MTU's 12V 4000 R84 engines are 50 per cent lower than the current EU Stage IIIB emission standard. They are to be used in Vossloh's DE 18 diesel electric multi-purpose locomotives, which are to be supplied by Vossloh to the French leasing company Akiem S.A.S. The first engines are scheduled for delivery beginning in 2017. The MTU brand is part of Rolls-Royce Power Systems.
Jürgen Blassmann, Head of Rail Business and Base Engineering MTU Engines, said: "The order from Vossloh shows that our Series 4000 rail engines are genuine all-rounders: they are powerful, are reliable even under the toughest conditions and at the same time environmentally friendly." The 12-cylinder engines have a rated output of 1,800 kW and enable the locomotives to achieve a maximum speed of 120 km/h.
A special requirement of Akiem is that the emission levels are to be 50 per cent lower than the EU Stage IIIB emission standards, since the locomotives are also to be used for works in tunnels – among other tasks such as shunting and the haulage of freight and infrastructure trains. The reducing of emissions plays an important role in the health protection of workers in the tunnel. The MTU drive systems achieve this using exhaust gas recirculation, common rail injection and a diesel particulate filter. Regulated two-stage turbocharging delivers high charge air pressure to the engines to increase the power output and reduce particulate emissions to a minimum.
MTU's Series 4000 locomotive engines have a proven track record of 20 years worldwide: they cover a power range extending from 850 to 3,300 kW in various emission stages. They are used to drive mainline and shunting locomotives, in addition to special-purpose vehicles on all continents, in some cases under the most extreme environmental conditions: at high altitude, in the freezing cold, in sweltering heat and even in sandstorms. Regardless of the conditions, they stand out in terms of their reliability and high power output while at the same time requiring a minimum of installation space. A total of more than 2.800 Series 4000 rail engines have been delivered to customers since 1996.
About MTU
MTU is one of the world's leading manufacturers of large diesel engines and complete propulsion systems. Our robust and durable engines reliably propel large ships, heavy agricultural and rail vehicles, and industrial applications.