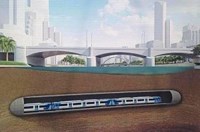 The biggest public transport project in Australia is out to market. Acting Premier James Merlino joined Minister for Public Transport, Jacinta Allan, to announce Expressions of Interest (EOI) are now being sought to deliver Melbourne's new Metro Tunnel. This Public Private Partnership – expected to be in the range of $6 billion – will deliver the nine kilometre twin tunnels under the CBD, and the five new underground stations.
The start of the Metro Tunnel procurement process has been made possible by the announcement that the Andrews Labor Government would fully fund and deliver the project. While the Labor Government would welcome a partnership from any future Commonwealth Government, this project simply cannot wait any longer. The guaranteed funding has given the market the stability it needs to enter the tender process, after significant interest from some of the world's biggest construction and engineering firms.
The new Metro Tunnel will give the Cranbourne, Pakenham and Sunbury lines their own tunnel through the CBD, which will free up space in the Loop to run more trains in and out of the City. It includes five new underground stations, at Arden, Parkville and Domain, and two new city stations directly connected to Flinders Street and Melbourne Central. Sixty five brand new, high capacity trains will run on the line, freeing up more trains and more space all over Melbourne.
It will mean more trains, coming more often, to more stations, which means less congestion in our suburbs. Early works begin next year, with the major construction delivered through this package to start in 2018, and the project set to create 3,700 Victorian jobs. The EOI process closes at 2:00pm on Thursday 9 June. For more information, visit melbournemetro.vic.gov.au.
Quotes attributable to Acting Premier James Merlino "This is the biggest public transport project in Australia, we want the best in the world to build it, and we're getting it done." "We can't sit around and wait for the Federal Government to make up its mind. Melbourne needs the Metro Tunnel and we will build it – we're getting it done.
Quotes attributable to Minister for Public Transport Jacinta Allan "Melbourne is growing, but we can't run more trains because the City Loop is full. The Metro Tunnel will free up space in the Loop to run more trains in and out of the City." "We're looking to partner with the world's best to build the back-bone of a better train system for Melbourne – the Metro Tunnels and five new stations."
About Premier of Victoria
Our state is growing faster than any other. That's why we have a plan to transform our public transport system, reduce congestion on our roads and improve safety for everyone.
We're removing our 50 worst level crossings and we're building Melbourne Metro – the most important public transport project in the nation. We're also fixing the congested local roads that people use every day.