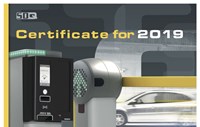 nagels tickets have been certified by Skidata for 2019.
nagels has been a preferred and certified ticket supplier for Skidata since 2003, confirming the consistent quality and functionality of our tickets.
The following tickets have been certified: TK450 Barcode, TKC450 Magnetic Stripe, TK Unlimited Barcode and TKC Unlimited Magnetic Stripe.
nagels holds recommended and certified ticket manufacturer status with most of the parking sectors leading OEMs.
About nagels
More than 80 years experience guarantees best working results: It is in nagels' interest to understand your requests and requirements, see them clearly and convert them into product. Their highly skilled print team operates with a worldwide network of experienced partners.