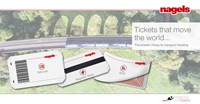 For many years the mass-transit ticketing sector has had limited options available when it comes to ticket production, more so in the manufacture and supply of the more traditional magnetic tickets commonly used across the rail networks.
nagels is building on its success in Europe and internationally in the traditional and smart ticketing sectors, with a move into the UK mass-transit market while expanding its international presence. While known as the international leader in the production of parking tickets and operational print, nagels is not associated for its range of transit ticket solutions straight away.
The company manufactures tickets for barcode, magnetic, and smart ticketing applications for transit operators and municipalities across the world. The products are manufactured in its secure production facility in Kempen, Germany under strict control measures targeting a "best in class" ethos at all stages of supply, from concept through to delivery and after sales support.
With many transit operators looking towards the future with Smarter Cities Initiatives rolling out internationally, nagels continues to position itself as the key supplier and partner in the smart ticket sector.
Working with the OEMs and system integrators, our team of software developers, production operatives, and technical specialists in transit and smart ticketing provide a bespoke service to each and every business partner ensuring all aspects of the ticket operators requirements are realised and implemented.
The nagels team will be exhibiting and available for discussion at the upcoming Transport Ticketing Global event, held from the 23 – 24th of January in London. You can find us at booth A24.
About nagels
nagels is the international leader in the manufacturing and supply of machine issue tickets for the parking and transport sectors. Operating 15 companies in 10 countries, the annual production exceeds 4.5 billion tickets, with products used in more than 80 countries across the world. This success is based on our ability to provide innovative products that meet international demands, simultaneously responding to industry developments and creating a tailored solution for every customer. Our consistent and sustained growth can be attributed to the quality and functionality of our products, which are managed by highly skilled teams of ticket specialists.
For more information please visit www.nagels.com or to discuss your ticketing needs no matter the system in operation, contact the sales and development team at lee.minter@nagels.com or insa.nagels@nagels.com.