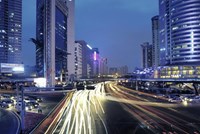 Former Labor Secretary Elaine Chao will be nominated to serve as Secretary of Transportation, President-elect Donald Trump's transition team announced today. The National Association of Railroad Passengers will work with the incoming administration to ensure that we build a national transportation network that gives travel choices to urban and rural communities alike, and gives local officials flexibility in allocating limited resources to meet critical transit objectives.
Secretary Chao headed the Labor Department during President George W. Bush's administration, and also served as deputy secretary of transportation under President George H.W. Bush. During a 2002 funding crisis, when Amtrak CEO David Gunn warned that an immediate infusion of federal funding was needed to prevent a total shutdown of the network, a coalition of labor representatives had emergency meetings with President Bush, Transportation Secretary Norm Mineta, and Labor Secretary Chao. NARP joined with the coalition—which included the Brotherhood of Locomotive Engineers, the International Brotherhood of Teamsters, and the AFL-CIO—and was able to persuade the Bush Administration to join Congress in coming up with a funding solution to keep Amtrak operating.
"With decades serving in government, Secretary Chao will bring administrative experience to the rail and transit programs that've been enacted—with broad, bipartisan support—by the current Congress," said Jim Mathews, NARP President & CEO. "Given her frontline experience with Amtrak in 2002, we have confidence she understands how important these trains are to the millions of people they serve, in both rural towns and big cities."
NARP welcomed the bipartisan reaction that followed the announcement.
"I want to congratulate Secretary Chao on her nomination to lead the Transportation Department," said Senate Minority Leader Chuck Schumer (D-NY). "[I hope she shares President-Elect Trump's goal of a] major infrastructure bill, backed by real dollars and not just tax credits and without cutting other programs like health care and education."
NARP will continue to work with all stakeholders to enact the rail and transit programs authorized by the most recent surface transportation act, and ensure that passengers are represented in the promised infrastructure bill.
About the National Association of Railroad Passengers
NARP is the only national organization speaking for the nearly 40 million users of passenger trains and rail transit. We have worked since 1967 to expand the quality and quantity of passenger rail in the U.S. Our mission is to work towards a modern, customer-focused national passenger train network that provides a travel choice Americans want. Our work is supported by more than 28,000 individual members nationwide.