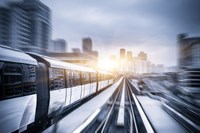 National Association of Railroad Passengers President and CEO Jim Mathews has written to Amtrak's entire Board of Directors to urge them to consider a vibrant, visionary railroad leader as Amtrak's new President and CEO rather than an administrator or someone from outside the rail industry.
NARP has not and will not endorse any particular candidate. Instead the Association, the only national organization speaking for the nearly 40 million users of passenger trains and rail transit, will press for a CEO dedicated not just to preserving but to growing all three of Amtrak's business lines – the National Network, the Northeast Corridor and state-supported routes – while advancing a real vision for transformative but responsible change.
"It's a difficult but important balancing act," said Mathews. "It's clear that an inexperienced CEO, or one not fully committed to the entire system, would not enjoy sufficient congressional support to be effective. By the same token, someone too steeped in prevailing railroad culture, with an inability to see beyond the old ways of operating railroads, will be ill-equipped to meet the challenges of this next century head on."
NARP members nationwide support the positions taken by Sens. Roger Wicker (R-Miss.) and Richard Durbin (D-Ill.), that the next CEO boast significant relevant professional experience along with a genuine commitment to a unified passenger rail system.
Additionally, NARP has asked the Board to consider five broad themes as it assesses CEO candidates:
The next Amtrak CEO should want to create a truly 21st Century network, with enough capital funding for safe operations and growth.
The next CEO needs to develop strong partnerships with freight railroads who, ever since making their deal with the federal government to take passenger service off their hands, have been required to provide their best service at their lowest prices to support passenger routes.
For the good of the enterprise, the next CEO needs the skill and patience to broker a "peace agreement" among Amtrak's many internally warring tribes – not just labor-management, but internecine and interdepartmental sparring.
The next CEO needs the tenacity and creativity to fight relentlessly for service operated with modern locomotives and passenger cars, outfitted with modern amenities on a first-world transportation infrastructure.
The next CEO should be an evangelist for truly customer-focused service, with modern amenities on-board, safe and reliable accommodation and nourishing and pleasing food and beverages.
"The next CEO needs to believe fervently in a vision for Amtrak worthy of a 21st Century America, should have the enthusiasm to convert others to that vision and should have a demonstrated track record of translating ambitious vision into tangible results. That doesn't happen when one person tries to micromanage every function. It happens when a knowledgeable, forthright, decisive and optimistic CEO inspires the entire team – from the boardroom to the coach-cleaners – to believe in the possibilities of success," Mathews wrote in his letter to the Amtrak Board and Board Chairman Anthony M. Coscia.
The full text of the letter can be found here.
About the National Association of Railroad Passengers
NARP is the only national organization speaking for the nearly 40 million users of passenger trains and rail transit. We have worked since 1967 to expand the quality and quantity of passenger rail in the U.S. Our mission is to work towards a modern, customer-focused national passenger train network that provides a travel choice Americans want. Our work is supported by more than 28,000 individual members nationwide.