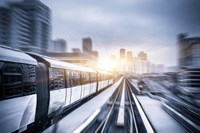 Following a contentious election, American voters have given control of congress to the Republican Party, which has taken the White House and retained control of the U.S. Senate and House of Representatives. Given the disparity between Donald Trump's infrastructure proposals and the 2016 Republican Party Platform, there is a lot of work NARP staff will need to do to map out a strategic plan for securing passenger-friendly policy in the 115th Congress.
However, even at this early date, we are able to report on some transportation-specific developments that came out of last night's results.
Transit at the ballot box
Regardless of your party affiliations, yesterday was a great day for transportation funding measures. The American Public Transportation Association reports that Americans approved 33 of 48 local and statewide public transit measures. All together, those 48 ballot measures represented roughly $200 billion in public investment in transit.
Some of the big winners include:
California:

Bay Area voters approved $3.5 billion for the BART commuter rail system.
Los Angeles County voters green passed a sales tax to help LA Metro fund its $120 billion mobility plan, which includes expansion of the rail system.

Washington: Seattle voters approved a $54 billion transit package to fund light rail, bus rapid transit and commuter train service.
Colorado: Pueblo County voters approved Measure 1A, part of which will fund work to continue and extend Amtrak's Southwest Chief service.
Virginia: Voters in Arlington and Fairfax approved $58.8 million and $120 million, respectively, in bond measures to upgrade Metro.
Maryland: Prince George's County voters approved bond measure that will help fund the Purple Line light-rail project.
Georgia: Atlanta voters approved a half-penny increase for the MARTA commuter rail service.
You can find a full list of transportation ballots at the Eno Center for Transportation.
President-Elect Trump's Infrastructure Proposal
Trump's campaign promised a trillion infrastructure plan that will rely heavily on private funding, incentivized by an investment tax credit. Trump officials argue this would largely be revenue neutral, with tax credits offset by the additional tax revenue from the companies and workers participating in building these projects. The bad news for passenger rail and transit? This funding structure works best for projects like toll roads and airports.
House Speaker Paul Ryan has also proposed paying for a big infrastructure push by eliminating entitlement programs, such as block grants to Medicaid and food stamps.
The Trump campaign is indicating that it will move an infrastructure proposal within the first 100 days of his presidency.
Senate Races
Pollsters predicted there was a 50 percent the senate would flip to the Republicans, but poor Democratic turnout allowed Republicans to retain control. In races that looked tight, or lacked an incumbent, there was a clear Republican advantage:
Incumbent Republican Senator Marco Rubio of Florida defeated Democratic challenger Patrick Murphy.
Incumbent Republican Senator John McCain of Arizona defeated Democratic challenger Representative Ann Kirkpatrick.
Incumbent Republican Senator Richard Burr of North Carolina defeated Democratic challenger Deborah Ross.
Incumbent Republican Senator Roy Blunt of Missouri defeated Democratic challenger Jason Kander.
Incumbent Republican Senator Pat Toomey of Pennsylvania defeated Democratic challenger Katie McGinty.
Incumbent Republican Senator Ron Johnson of Wisconsin defeated Democratic challenger Russ Feingold.
Republican Representative Todd Young of Indiana defeated former-Senator Evan Bayh to replace Senator Dan Coats.
Incumbent Republican Senator Kelly Ayotte lost to Democrat Maggie Hassan in New Hampshire.
Incumbent Republican Senator Mark Kirk lost to Democrat Tammy Duckworth in Illinois.
Democrat Catherine Cortez Masto of Nevada defeated Republican Joe Heck.
House Transportation & Infrastructure
The House GOP easily held onto a majority. In transportation-specific races:
Incumbent Republican John Mica lost to Democrat Stephanie Murphy.
Incumbent Republican Cresent Hardy lost to Democrat Ruben Kihue.
Incumbent Republican Bill Shuster defeated Art Halvorson.
Incumbent Republican Carlos Curbelo defeated Democrat Joe Garcia.
Incumbent Republican Barbara Comstock defeated Democrat LuAnn Bennett.
Incumbent Republican Lee Zeldin defeated Democrat Anna Throne-Holst.
Incumbent Republican John Katko defeated Democrat Colleen Deacon.
Incumbent Republican Jeff Denham's defeated Democrat Michael Eggman.
Get to Know Your Congressional Freshman Class
Senate
Kamala Harris, D-Calif.
Tammy Duckworth, D-Ill.
Todd Young, R-Ind.
Chris Van Hollen, D-Md.
Catherine Cortez Masto, D-Nev.
House
Andy Biggs, R-Ariz.
Tom O'Halleran, D-Ariz.
Nanette Barragan, D-Calif.
Salud Carbajal, D-Calif.
Lou Correa, D-Calif.
Ro Khanna, D-Calif.
Jimmy Panetta, D-Calif.
Lisa Blunt Rochester, D-Del.
Charlie Crist, D-Fla.
Val Demings, D-Fla.
Neal Dunn, R-Fla.
Matt Gaetz, R-Fla.
Al Lawson, D-Fla.
Brian Mast, R-Fla.
Stephanie Murphy, D-Fla.
Francis Rooney, R-Fla.
John Rutherford, R-Fla.
Darren Soto, D-Fla.
Drew Ferguson, R-Ga.
Colleen Hanabusa, D-Hawaii
Raja Krishnamoorthi, D-Ill.
Brad Schneider, D-Ill.
Jim Banks, R-Ind.
Trey Hollingsworth, R-Ind.
Roger Marshall, R-Kan.
James Comer, R-Ky.
Anthony Brown, D-Md.
Jamie Raskin, D-Md.
Jack Bergman, R-Mich.
Paul Mitchell III, R-Mich.
Jason Lewis, R-Minn.
Don Bacon, R-Neb.
Ruben Kihuen, D-Nev.
Jacky Rosen, D-Nev.
Carol Shea-Porter, D-N.H.
Josh Gottheimer, D-N.J.
Adriano Espaillat, D-N.Y.
John Faso, R-N.Y.
Tom Suozzi, D-N.Y.
Claudia Tenney, R-N.Y.
Ted Budd, R-N.C.
Dwight Evans, D-Pa.
Brian Fitzpatrick, R-Pa.
Lloyd Smucker, R-Pa.
David Kustoff, R-Tenn.
Jodey Arrington, R-Texas
Vicente Gonzalez, D-Texas
Tom Garrett, R-Va.
Donald McEachin, D-Va.
Scott Taylor, R-Va.
Pramila Jayapal, D-Wash.
Mike Gallagher, R-Wis.
Liz Cheney, R-Wyo.
Jenniffer Aydin Gonzalez Colon, R-P.R.
Four Year GOP Mandate?
Looking ahead to the senate elections in 2018, it looks very likely the Republicans will hold Congress for four years. Democrats could pick up Senate seats in Texas, Utah, Mississippi, Tennessee, Nebraska, Wyoming, Arizona, and Nevada. With the exception of Nevada, voters in these states all lean heavily Republican.
About The National Association of Railroad Passengers (NARP)
NARP is the only national organization speaking for the nearly 40 million users of passenger trains and rail transit. We have worked since 1967 to expand the quality and quantity of passenger rail in the U.S. Our mission is to work towards a modern, customer-focused national passenger train network that provides a travel choice Americans want. Our work is supported by more than 28,000 individual members nationwide.