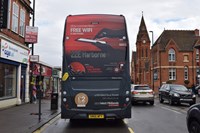 National Express West Midlands has spent £10 million on 38 brand new top-spec buses for routes that go through Harborne.
The very dark grey Platinum double deckers are all kitted out with comfy seats, extra leg room, free wifi and USB chargers.
From day one, the buses will be fitted with new ticket machines, which react much quicker than the old ones. This will speed up boarding times - only by several seconds, but over the course of a whole bus route, that time adds up.
The vehicles are arriving in batches from the Scottish manufacturer Alexander Dennis Ltd throughout December 2017.
Tom Stables, Managing Director of National Express West Midlands, says:
"I hope our south-west Birmingham customers enjoy their beautiful new buses.
"Our investment in these high-class vehicles is part of our commitment to the West Midlands Bus Alliance. In return, Birmingham City Council and Transport for West Midlands are putting £3.27 million Department for Transport funding into these routes."
That money from central government will improve bus services in 2018 by bringing:
a bus lane along Harborne Road into the city, speeding up bus journey times by 8 minutes in the morning rush hour
road improvements at the Queen Elizabeth hospital to improve reliability through the complex
next-generation real-time information
As well as being good news for bus passengers, these new Platinum buses are good news for the environment. In early 2018, the 38 vehicles will go up to South Yorkshire to be fitted with smart hybrid engines. Smart hybrids emit extremely low levels of nitrogen oxide, which is bad for people's lungs.