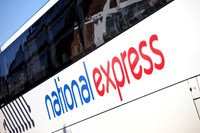 After 38 years in the rail industry, Andrew Chivers retires at the end of 2016.
Andrew began as an engineering management trainee at British Rail in September 1978, based in Derby.
In his time in the industry, Andrew managed three depots and held a number of fleet engineering leadership roles before his first TOC Managing Director role at Wessex in 2002. Andrew moved on to become Managing Director of London Lines (incorporating c2c, WAGN and Silverlink) in 2003 and then National Express East Anglia in 2007.
Andrew then became National Express' Managing Director Rail in 2010. As well as helping cement National Express' position as the UK's best performing railway operator, Andrew led NX's entry in to the German Rail market - the first British company to do so competitively.
In light of Andrew's retirement, Tom Stables will become Managing Director, National Express Rail and UK Coach from January 1st 2017. In this role Tom will have responsibility for both our Group Rail and UK Coach divisions, supported by a strong team of operational Managing Directors: Julian Drury, at c2c; Wolfgang Schuster for our German rail operations; Chris Hardy who is being promoted to Managing Director National Express Coach; and, Ian Fraser who remains Managing Director Kings Ferry. Tom has been Managing Director UK Coach for four years, and before that held commercial roles across the transport industry, including at First Great Western and US School Bus operations.
Chris Hardy has been with National Express for nearly 4 years, joining from KPMG. Since leading our successful bid to renew c2c, Chris has taken on wider commercial responsibilities. Chris recently moved to UK Coach as its Commercial Director after serving as Group Commercial Director for over 2.5 years, and will now become Managing Director National Express Coach from January 1st 2017.
Dean Finch, National Express Group Chief Executive, said: "I would like to extend my personal thanks to Andrew for all his support and considerable efforts in his time at National Express. Andrew can look forward to a well-earned retirement and reflect on a great career within the industry. For National Express he has not only helped us top the charts for reliability and performance but he also led our entry in to the German Rail market. I wish Andrew all the best for the future.
"I am delighted that Tom has agreed to add rail responsibilities to his portfolio. Tom has led our UK Coach Division with distinction and will bring his considerable experience to our Group Rail operations. In his new role he will be supported by a strong set of operational Managing Directors in our Rail and UK Coach Division, and I am glad that Chris Hardy will lead our National Express coach operations building on his success leading our successful c2c renewal bid and significant group-wide commercial experience."
About National Express
National Express Group is a leading public transport operator with bus, coach and rail services in the UK, Continental Europe, North Africa, North America and the Middle East. Passengers made more than 867 million journeys on our services in 2015.