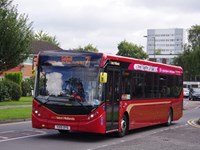 National Express West Midlands has been piloting cutting-edge technology to improve air quality in the region. The bus company is investing millions in drastically cleaning up what comes out of the exhausts of its 1,500 buses.
The Birmingham-based operator has been acting as the bus industry's guinea pig, testing the first buses in the world fitted with stop-start transmission. Many cars already have stop-start gearboxes, but the technology is relatively new to buses.
National Express West Midlands has been testing this kit in real-world conditions. A year ago, it fitted two of its single-deck ADL Enviro 200 buses with Voith Turbo stop-start gearboxes. Since then, the buses have clocked up over 80,000 miles on the 71 and 72 routes between Solihull and Birmingham.
Colin Saward, Head of Engineering at National Express, said:
"Our company is totally committed to playing a full part in helping to clean up our air - especially in the centre of Birmingham. So fitting stop-start technology to our buses was imperative. This technology cuts fuel consumption by 10%, therefore also cutting harmful emissions.
"The stop-start gearbox trial was extremely successful, so we have every one of the 96 double-deckers we bought this year comes with these stop-start gearboxes."
National Express West Midlands is also a crucial part of the West Midlands Combined Authority Low Emission Bus Delivery Plan. This strategy recently won the 2016 National Air Quality Award for Passenger Transport.
Steve Hayes, Network Development and Delivery Manager for Transport for West Midlands, said:
"Our Low Emission Bus Delivery Plan was recognised as being industry-leading, with particular recognition given to our partnership approach with bus operators and local authorities. This is testament to the work of our Bus Alliance, of which tackling air quality is a key objective."
The West Midlands Bus Alliance was signed a year ago. Transport operators and local authorities publicly pledged to put £150 million into working in partnership to grow numbers of passengers, keep customer satisfaction high and improve air quality.
A new Greener Journeys report shows that across the UK, a new generation of clean buses is already saving 55,000 tonnes of greenhouse gas emissions per year and delivering £8 million in health and environmental benefits.
The report - A Green Bus for Every Journey, by the Low Carbon Vehicle Partnership (LowCVP) - praises National Express's fleet of 18 hybrid buses in Birmingham. These green buses are so popular with passengers that they sometimes complain when conventional models arrive at their bus stop.
Claire Haigh, Chief Executive of Greener Journeys, said:
"Tackling transport emissions is one of the most pressing issues facing councils and operators today, and this report clearly shows that investing in clean buses is an integral part of the solution.
"Encouraging more people to switch their car for the bus is crucial to tackling the UK's emissions problem, and thanks to the new range of clean bus technologies available, this type of behaviour change is now more effective than ever."
About National Express
National Express Group is a leading public transport operator with bus, coach and rail services in the UK, Continental Europe, North Africa, North America and the Middle East. Passengers made more than 867 million journeys on our services in 2015.