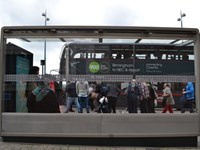 Improving local bus services would boost employment and improve income in the West Midlands, reducing social deprivation, according to a report by the sustainable transport group Greener Journeys.
The Value of the Bus to Society, researched by KPMG and the Institute for Transport Studies at the University of Leeds, quantifies for the first time how bus services tackle social deprivation.
A 10% improvement in local bus services is linked to a 3.6% reduction in social deprivation, taking into account employment, income, life expectancy and skills.
The West Midlands features heavily in government statistics of the most deprived parts of the country. 40% of Birmingham's areas are in the 10% most deprived in England. Wolverhampton, Sandwell and Walsall also appear in the top 20 most deprived towns and cities.
Greener Journeys' report shows that a 10% improvement in local bus services in the 10% most deprived neighbourhoods across England would result in:
9,909 more jobs, the result of a 2.7% fall in employment deprivation
22,647 people with increased income, the result of a 2.8% drop in income deprivation
2,596 fewer years of life lost---7,313 more people with adult skills
0.7% increase in post-16 education
The report demonstrates the important role that buses have in helping to reduce social deprivation in the UK, where 1 in 4 people are at risk of social exclusion, and 1 in 4 people do not have access to a car.
Peter Coates, Managing Director of National Express West Midlands, said:
"Our buses take a million people to work, to college, to the shops and to see their friends and family every day. A frequent and reliable bus service is not just good for passengers, it's good for the West Midlands economy too."
The Value of the Bus to Society builds on existing research by Greener Journeys showing that buses bring huge economic benefits. Some 3.5 million people in the UK travel to work by bus, and these commuters generate more than £64 billion worth of goods and services per year.
And proper investment in local bus infrastructure delivers vast rewards, with every £1 spent on local bus priority measures delivering up to £7 in economic benefit.
Claire Haigh, Chief Executive of Greener Journeys, said:
"This vital new research demonstrates that bus travel doesn't just benefit the economy, it can also help alleviate deprivation and improve people's life chances. It shows that investment in buses can deliver truly inclusive and sustainable economic growth.
"This new evidence shows that bus investment is not just a transport policy – it is a health policy, an education policy, a skills policy, a wellbeing policy, and a social cohesion policy. We urge government to consider these findings when contemplating future investment in bus services."
Katie Schmuecker, Head of Policy, Joseph Rowntree Foundation, said:
"If the Government is to meet its promise of making the UK a country that works for everyone, we must solve the problem of poverty in this country. As this report shows, buses play a central part in fighting poverty, keeping those on lower incomes or the unemployed, connected to economic opportunities."
About National Express
National Express Group is a leading public transport operator with bus, coach and rail services in the UK, Continental Europe, North Africa, North America and the Middle East. Passengers made more than 867 million journeys on our services in 2015.