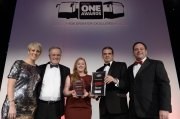 National Express, the Birmingham-based bus and coach company, has won a national industry award for its excellent driver training programme.
The transport operator won the Route One Operator Training category for its Master Driver scheme, which trains its world-class bus and coach drivers over and above normal professional standards. This training makes National Express the first company to train its drivers using an Institute of Advanced Motorist-accredited course.
Peter Coates, Managing Director of National Express West Midlands, said:
"At National Express, we know that our workforce is our greatest asset. One of our core values is to develop the talents of all our employees. Delivering for our passengers is only possible if each of our 42,000 employees reach their full potential. So we are strongly committed to training over and above the standard minimums. And it's great to have that recognised in these awards."
Birmingham driver Darren Dunbar was one of the first to qualify as a Master Driver, meaning he's earned the right to wear a white shirt with the increasingly famous Master Driver blue tie and a special HiVis when driving his bus around the streets of the West Midlands.
"Who would have thought a white shirt and blue tie would make such a difference?" he says. "It has made the Master Drivers feel different - even more proud than we were before. It makes the passengers stop and ask, 'What's with the new uniform?'
"This advanced driving test reminded all of us how important it is to maintain and develop our driving skills. I've been driving for 16 years and it taught me lots of new techniques and skills. I now look at this job through a new set of eyes - the eyes of a Master Driver."
Since 2014, National Express' Master Driver scheme has been driving up standards, keeping passengers safer and giving them better journeys. To become a Master Driver, a National Express driver must have three consecutive years of clean safety records, excellent customer service and top-performing driving ability.
Only when they can demonstrate all these do they do a computer-based driver analysis to understand their attitude towards risk and an NVQ-level customer service qualification.
They must then pass the IAM Advanced Public Service Vehicle training course. This qualification - taken by police pursuit drivers and Bentley limousine drivers - entitles them to become members of IAM RoadSmart (formerly the Institute of Advanced Motorists).
Duncan Pickering of IAM RoadSmart said:
"National Express clearly knows the importance of ensuring its drivers reach the highest safety standards. It's all about offering its passengers the ultimate reassurance that they are in safe hands the moment they step on board a National Express vehicle."
National Express is proud to have 186 Master Bus Drivers and 102 Master Coach Drivers on its books, with more in training. And the scheme is getting results - employee engagement scores among Master Drivers are higher than the average, and passenger complaints about driving standards are falling where the Master Drivers are working.
About National Express
National Express Group is a leading public transport operator with bus, coach and rail services in the UK, Continental Europe, North Africa, North America and the Middle East. Passengers made more than 867 million journeys on our services in 2015.