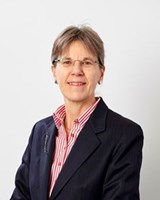 National Express is delighted to announce the appointment of Dr Ashley Steel as an independent Non-Executive Director. She will join the Board on 1 January 2016 and will be a member of the Safety & Environment and Audit Committees.
Ashley is a former Vice Chairman at KPMG and was Global Chair for its transport, leisure and logistics practice until her retirement from the firm in September 2014. She has significant international experience and has advised numerous FTSE/Fortune 500 boards. Her other sector experience includes professional services, technology, media, business services and healthcare.
Ashley is currently a Non-Executive Director of the Civil Aviation Authority and serves on the International Business Advisory Board at British Airways. She is also Special Adviser to a global aviation technology company owned by Warburg Pincus and an independent Non-Executive Director to global law firm, Ince & Co.
Ashley has a PhD in Management from Henley Business School.
Sir John Armitt, Chairman of National Express, said: "I am delighted that Ashley is joining the Board of National Express. Ashley has a distinguished track record of advising companies across a range of sectors – including transport – and we will benefit from her knowledge and experience. I look forward to working with her."
About National Express
National Express Group is a leading transport provider delivering services in the UK, Continental Europe, North Africa, North America and the Middle East.