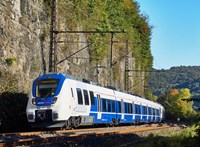 National Express has started rail operations in Germany for the first time as the company begins running services on the Rhine Munster Express (RME).
National Express became the first British company to competitively enter the German rail market when it was awarded the contracts in February 2013. Yesterday, Sunday 13 December, National Express began operating two services in the North Rhine-Westphalia region:
RE7 regional express service between Krefeld-Cologne-Wuppertal-Hagen-Hamm-Munster-Rheine
RB48 regional stopping service between Bonn-Cologne-Wuppertal
National Express has procured 34 new Bombardier Talent 2 EMU trains on behalf of the regional transport authorities to operate the new services. The trains, which were first unveiled in December 2014, can reach up to 100mph, feature both first and standard-class seating, and are fully accessible.
National Express will carry an estimated 18 million passengers on the services each year. The two 15-year contracts are expected to generate revenues of around €1.6 billion in total.
In October National Express signed two contracts to operate the Rhine-Ruhr Express (RRX) service in the same region. The company has also been named as the preferred bidder for the Nuremberg S-Bahn contract and is awaiting the outcome of an appeal which is due shortly.
Dean Finch, National Express Group Chief Executive, said: "Germany is Europe's largest rail market and is an important part of our strategy. I am delighted that after significant planning and preparation we have started running services. We will be implementing our approach and success in running the UK's best performing franchise, c2c, in Germany. National Express' aim is to deliver a better, more frequent and reliable service to RME passengers with brand new, modern trains.
"The German rail market presents significant further opportunity for National Express. We are working on the start-up of our next two German rail contracts on the Rhine-Ruhr Express. These bring our already secured revenues from German rail to €2.6 billion. We await the outcome of the appeal on the €1.4 billion Nuremberg S-Bahn contract, have recently submitted a bid for another German rail contract and see an active pipeline of attractive opportunities throughout 2016."
About National Express
National Express Group is a leading transport provider delivering services in the UK, Continental Europe, North Africa, North America and the Middle East.