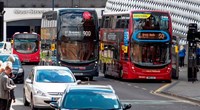 National Express is pleased to announce it has been named preferred bidder for a contract to operate buses in Porto, Portugal. The bid was led, and the services will be run, by National Express' Spanish business, ALSA.
The contract will run for ten years and is expected to generate revenues of around €500 million over the life of the contract. National Express' services will carry more than 75 million passengers a year, on approximately 420 buses.
National Express will now enter the standard further discussions with the relevant authorities to conclude the contract. The contract is expected to start in the first quarter of 2016.
Dean Finch, National Express Group Chief Executive, said: "National Express is delighted to have been named preferred bidder for the Porto bus contract. This success is further evidence of our strong international credentials opening up new market opportunities."
"We will continue to assess other opportunities that meet our strict returns criteria. As in this Porto bid, our focus will remain on delivering excellent services for passengers alongside good returns for shareholders and taxpayers alike."
Notes:
National Express has been named preferred bidder by the Board of Sociedade de Transportes Colectivos do Porto, S.A. (STCP).
About National Express Group
National Express Group PLC ("National Express" or the "Group"), is a leading international public transport group, operating bus, coach, rail and tram services across the UK, continental Europe, North Africa, North America and Bahrain.