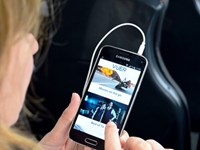 National Express West Midlands bus passengers can now get their show on the road - literally. The Birmingham-based bus company has launched the UK's first on-bus infotainment system, offering blockbuster films, TV, news and magazines online completely free of charge.
The National Express VUER (View, Unwind, Enjoy, Relax) app allows customers to enjoy hours of free entertainment, as well as news and weather plus free wi-fi, on their own phones or tablets from the comfort of their seat.
Peter Coates, Managing Director of National Express West Midlands, said:
"It's very exciting to be the first operator to launch an on-bus infotainment system. It means our customers can now unwind, relax and get the most out of their journey.
"Passengers on three Platinum express services can now browse the internet, read up to £20 worth of magazines, enjoy films and television programmes for both adults and kids - all for the cost of a bus ticket.
"So bring your headphones, sit down on the comfortable Platinum seats with their extra leg room, and take in a movie. I've been watching Mission: Impossible - Rogue Nation, but we've also got Shaun of the Dead and Despicable Me 2, as well as TV comedy and drama, cartoons, documentaries and magazines including Cosmopolitan, Time Out and Top Gear."
The Vuer service is available now on:
the X1 between Birmingham and Coventry via the airport and the NEC
the X2 - Birmingham - Yardley - Sheldon - Solihull via Old Lode Lane
the X61 between Birmingham and Frankley via Northfield
The system, which was rolled out on National Express coaches at the end of 2016, is very simple to use. Customers simply download the app from the Apple or Android app store on their phone or tablet before they get on the bus. Content is then streamed over wi-fi during the journey.
The portal can still be used if the customer has not already downloaded the app, though for maximum enjoyment it is recommended people do so in order to gain access to the full range of content on offer.
The films and TV programmes are stored in a box installed on a bus, ready to be picked up and watched on the customer's phone. The box is updated every day.
About National Express
National Express Group is a leading public transport operator with bus, coach and rail services in the UK, Continental Europe, North Africa, North America and the Middle East. Passengers made more than 867 million journeys on our services in 2015.