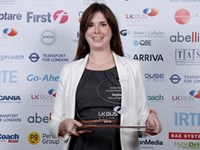 Bus services in the West Midlands have brought home two golds and a silver from the UK Bus Awards.
Stephanie Maher, who runs National Express' busy Wolverhampton Garage, won Young Manager of the Year.
The West Midlands Bus Alliance - made up of Transport for West Midlands (TfWM) with National Express West Midlands, other bus operators, highways authorities and Local Enterprise Partnerships (LEPs) - won Local Authority Project of the Year.
And the West Midlands Safer Travel Partnership got silver in the category Putting Passengers First.
Steph Maher, 30, joined National Express West Midlands in 2011 as a graduate trainee. She is now in charge of over 500 staff and nearly 200 buses at Park Lane depot in Wolverhampton. She also represents the company at the Black Country Chamber of Commerce.
The judges were impressed with Stephanie's "quiet effectiveness" and said:
"Her winning combination of steely determination and a sunny personality makes her a great role model for women in the bus industry."
The judging panel also praised the West Midlands Bus Alliance, which is the first of its kind in the UK, saying:
"Being a good model that could be reproduced elsewhere, we were pleased to see a single body acting in the interests of bus passengers, making this a very worthy gold winner."
Peter Coates, Managing Director of National Express West Midlands, said:
"It's great to see our industry-leading Bus Alliance being recognised on a national stage. It's only by working together in partnership that we can tackle the big issues like congestion and air quality in the West Midlands.
"As part of our Alliance pledges, National Express is spending millions of pounds on brand-new state-of-the-art Platinum buses. For their part, our council partners have invested in road improvements to make sure our buses keep moving and get our passengers where they need to go."
The West Midlands Safer Travel Partnership was the first of its kind in the UK. Through close partnership working between West Midlands Police, British Transport Police, TfWM and operators including National Express West Midlands, it continues to go from strength to strength.
Police and Crime Commissioner figures show crime on West Midlands buses is down 6% this year compared to last year.
And the latest Transport Focus Bus Passenger Survey statistics showed that more passengers are feeling safer year on year. 78% of people said they feel secure on National Express West Midlands buses. This figure has climbed nine percentage points since 2012.
About National Express
National Express Group is a leading public transport operator with bus, coach and rail services in the UK, Continental Europe, North Africa, North America and the Middle East. Passengers made more than 867 million journeys on our services in 2015.