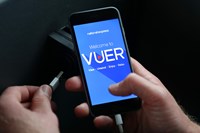 Headphones at the ready; coach travel has gone up a gear.
National Express is getting the show on the road – literally – as it today (Monday, November 28) launches phase one of the UK's first coach 'infotainment' -news and entertainment system – a complimentary service offering films, TV and magazines entirely free of charge.
The National Express VUER (View, Unwind, Enjoy, Relax) app allows customers to enjoy hours of free entertainment – as well as news, weather and journey updates and plus free WiFi - on their own devices from the comfort of their seat.
The service means people can browse the internet, read up to £20 worth of magazines, enjoy films and television programmes - and travel potentially hundreds of miles to boot – all for the cost of a coach ticket.
In a major score, the launch of VUER makes National Express the first transport company to offer Sky Sports News, with regular bulletins available, as well as Soccer AM.
Other launch content includes Sky News and weather, exciting episodes of TV comedy and drama, cartoons, documentaries and an array of magazines including Marie Claire, Cosmopolitan, Lonely Planet, Time Out and Top Gear.
As well as a fantastic selection of free entertainment to enjoyably while away the journey, VUER also helps customers plan their day - people will be able to use the system to keep tabs on their trip in real-time, to monitor the weather and browse the web with free WiFi.
Customers simply need to download the app from the Apple or Android app store on their phone or tablet before they get on-board to access the content, which is then streamed over Wi-Fi during the journey. The portal can still be used if the customer has not already downloaded the app, though for maximum enjoyment it is recommended people do so in order to gain access to the full range of content on offer.
VUER is part of National Express' ongoing strategy of continued investment to deliver the best possible customer experience and follows other innovations including DriveCam vehicle monitoring system, and a new digital marketing strategy which has transforms the way in which the coach company communicates with its customers – and they can communicate with it.
At a glance:
UK's first coach infotainment system
Result! First transport company offering Sky Sports News
Over 100 hours free content
Entertainment for both adults and kids
Tom Stables, Managing Director National Express UK Coach said: "We are thrilled to launch the UK's first coach infotainment system, which will greatly enhance the travelling experience for the millions of people who use us each year and we're particularly pleased to be the first to offer Sky Sports News. Customers will benefit from films, TV and magazines – as well as news and weather updates – completely free of charge, leaving them free to truly unwind, relax and get the most out of their journey. With coach tickets from just £5 one-way and magazines, film and TV thrown in for free, we believe the VUER enables us to offer truly unbeatable value to customers".
The first phase of the roll-out sees VUER rolled out on half of the National Express fleet on November 28 with 100 per cent of the fleet connected by summer 2017.
Films and journey information will be available in the second stage of roll-out in early 2017.
VUER is just the latest technological innovation from the UK's largest coach operator to benefit of the millions of customers who travel with National Express each year.
The coach company offers free WiFi and coach drivers are supported with cutting edge 24/7 safety support systems including traffic monitoring technology, lane departure warning, traction control, and CCTV.
About National Express
National Express Group is a leading public transport operator with bus, coach and rail services in the UK, Continental Europe, North Africa, North America and the Middle East. Passengers made more than 867 million journeys on our services in 2015.