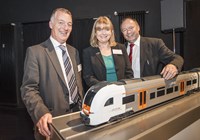 National Express Group has signed two contracts worth a combined €1bn to operate the Rhine-Ruhr Express (RRX) service in Germany.
At a ceremony in Hamm on Monday, National Express' Managing Director for Rail, Andrew Chivers, signed the contracts alongside representatives of the seven local authorities from North Rhine Westphalia, which had tendered the contracts.
They were joined by the Transport Minister for North Rhine Westphalia, Michael Groschek, and the UK's Consul General Susan Speller.
National Express had previously been named the preferred bidder for the contracts in June. They are two of the three contracts that cover RRX services, which operate between cities including Cologne, Dusseldorf and Dortmund, in Germany's most populous region.
The two National Express contracts are:
Routes RE5 (Koblenz – Cologne – Dusseldord – Wesel) and RE6 (Cologne/Bonn airport – Cologne – Dusseldorf – Essen – Hamm – Minden). This comprises a total of 6m train km and will start in June 2019
Route RE4 (Aachen – Mönchengladbach – Hagen – Dortmund). This comprises a total of 2.4m train km and will start in December 2020
Both contracts will run until December 2033, and once they are both operational, National Express' services will carry approximately 30 million passengers a year.
Andrew Chivers, National Express MD for Rail, said: "We are delighted with this important landmark for our German rail business. We look forward to running a high-quality service for our new passengers, and in December our German operations shift to the next level when we start to operate our first rail services in the country.
"National Express is leading the way among British transport companies by winning these contracts in Germany. This demonstrates that our success in making c2c the UK's most-punctual and award-winning rail franchise opens up new opportunities abroad."
In December National Express begins operating the RME service between Krefeld, Cologne, Bonn, Wuppertal and Munster. National Express will carry around 18m passengers per year and generate revenues of around €1.6 billion over the life of the 15-year contract.
National Express is also the preferred bidder for the Nuremberg S-Bahn contract.
About National Express Group
National Express Group is a leading transport provider delivering services in the UK, Continental Europe, North Africa, North America and the Middle East. Every year more than 845 million journeys are made on our buses, trains, light rail services and coaches.