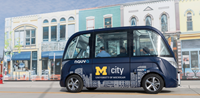 NAVYA, a pioneer in developing and manufacturing autonomous vehicles, today announced it will establish its first assembly plant outside of Europe in Southeast Michigan. Beginning last year, the French company partnered with Mcity, a public-private partnership led by the University of Michigan to accelerate advanced mobility vehicles and technologies, to bring the NAVYA ARMA, a 100% driverless, completely electric, autonomous shuttle vehicle to Mcity. Thanks to the strong partnership with the university, NAVYA has decided to manufacture its vehicles in the Ann Arbor area.
The state of Michigan is ubiquitous with auto manufacturing, and this affords NAVYA the opportunity to work with experienced people in the industry. According to NAVYA's Vice President of Sales, Henri Coron, the company has an immediate objective to build 20 vehicles at the new plant by the end of this year. To achieve that goal, NAVYA plans to hire a team of 15 people at the Michigan facility by the end of 2017. The Michigan Economic Development Corporation (MEDC) is currently considering providing an incentive in support of the project.
"Thanks to our strong partnerships with Ann Arbor SPARK, the University of Michigan and the State of Michigan, we decided to choose the Ann Arbor area to establish our US headquarters. The Ann Arbor area offers a lot of possibilities for NAVYA to work with our suppliers and hire high-level professionals," added Coron. NAVYA is currently working with partners to find the best location to bring its technology to the U.S. and build American.
"NAVYA is a global leader in autonomous mobility innovations. With its funding and other resources, it could easily locate anywhere in the world," said Paul Krutko, president and CEO of Ann Arbor SPARK. "With our talent, infrastructure, and established network of mobility technology businesses, it's a great choice for NAVYA to call the Ann Arbor region home."
Michigan has been making strides in implementing autonomous vehicles on its roads. Last year, Gov. Rick Snyder signed legislation that allows driverless vehicles to be tested in the state. The new laws will ensure Michigan continues to be the world leader in autonomous, driverless and connected vehicle technology. In December 2016, the ARMA was introduced to North America at Mcity's one-of-a-kind proving ground for connected and automated vehicles. Since then, the shuttle has been used to support research and to demonstrate automated vehicle technology at the test facility, with NAVYA becoming an affiliate member of Mcity.
About NAVYA ARMA
NAVYA ARMA is a safe, reliable and comfortable 100% autonomous, driverless and electric public transport vehicle that can carry up to 15 people. It has been designed to ensure the specific functions of an autonomous vehicle while optimizing navigation and safety. The shuttle is equipped with a multitude of sensor technology to provide 3D vision which enables it to map out the environment, detect obstacles in its path and identify traffic and road signs. The NAVYA ARMA shuttle can reach speeds of 28miles/hr. However, taking into account the nature of the sites it often serves, this is often limited to 15 miles/hr. The vehicle aims to provide a complement to current public transport systems over distances that are too short to go by car or are too long on foot.
About NAVYA
NAVYA, created in 2014, is a French company specializing in developing innovative, smart and sustainable mobility solutions. NAVYA develops driverless, automated electric vehicles that are independent of all infrastructure. These vehicles are designed for the intelligent transport of people and goods.
In October 2015, NAVYA launched the NAVYA ARMA, a 100% autonomous, driverless and electric shuttle which can transport up to 15 people and which is now operating on different sites: private sites and public roads.
The vehicle is equipped with numerous sensors and an on-board computing system that enables it to interact with its surroundings. It is also intended to provide efficient mobility solutions in terms of space and energy. NAVYA benefits from major advances in technology in the autonomous, electric vehicle sector thanks to its experience in the field and a highly-qualified R&D team. Christophe Sapet, its CEO, is supported by a team of 70 people divided up between Lyon and Paris.
October 2016 saw NAVYA's shareholders unanimously approve a raise in capital of 30 million euros. French groups VALEO and KEOLIS and the Qatari GROUP8 acquired a stake in the company alongside GRAVITATION and CAPDECISIF MANAGEMENT, who joined in 2015 and ROBOLUTION CAPITAL, the original investor.