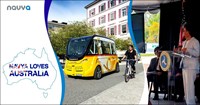 NAVYA and the autonomous vehicles market saw several advances this past week. Let's return to three of these significant advances.
Self-driving vehicle tesing is about to speed up in the US
U.S. Department of Transportation Secretary Elaine Chao visited NAVYA's partner MCity in Ann Arbor on 12 September during a demonstration day. She announced updated guidelines to facilitate the entrance on the market of autonomous vehicles.
These new guidelines aim to eliminate waiting periods for the testing and the deployment of self-driving vehicles and to avoid a patchwork of states rules. They will boost the deployment of self-driving technology as Elaine Chao said "The new guidance supports further development of this new technology, which has the potential to change the way we travel and how we deliver goods and services," Chao said in a statement. "The safe deployment of automated vehicle technologies means we can look forward to a future with fewer traffic fatalities and increased mobility for all Americans."
Partnership between South Australian Government and NAVYA
On 12 September, NAVYA and the Premier South Australian Government, laid the foundations of a partnership agreement in Paris with a view to setting up a future NAVYA Asia Pacific manufacturing facility in Adelaide.
This partnership will help ensure more people can experience automated vehicles in the region as NAVYA embraced the South Australian Government's carbon neutral and renewable energy focus which aligns with its own global views.
"The Australian government's enthusiasm for automated vehicle technology and innovation and our need to make our smart mobility solutions readily available to customers in this part of the world has pushed us to explore the possibilities for expansion in the region. For us, it is a natural progression in our growth strategy and we are delighted to have been able to lay the groundwork of a partnership agreement with the Government of South Australia," said Christophe SAPET, NAVYA CEO.
"Investment Attraction South Australia, is the South Australia's Government's investment agency and it has been working to bring NAVYA to the region for over twelve months. We look forward to helping NAVYA to establish and operate in this fast growing, future mobility sector in our region," said Jay WEATHERILL, Premier of South Australia.
Driverless vehicles study and research centre in Switzerland
NAVYA's partner CarPostal released a study about the acceptance of autonomous vehicles in Switzerland. The study led by the market research institute GIM Suisse SA and by HES-SO Valais (Haute école spécialisée de Suisse occidentale) showed that people who have already travelled aboard CarPostal's SmartShuttles have more confidence in the technology and many of them even want more shuttles of this type on the roads.
CarPostal and the Post have set up a closed test site in the Stöckacker district of Bern. The tests carried out there concern the exploitation of new functions in connection with automated driving in the public transport.
About NAVYA
NAVYA, created in 2014, is a French company specializing in developing innovative, smart and sustainable mobility solutions. NAVYA develops driverless, automated electric vehicles that are independent of all infrastructure. These vehicles are designed for the intelligent transport of people and goods.
In October 2015, NAVYA launched the NAVYA ARMA, a 100% autonomous, driverless and electric shuttle which can transport up to 15 people and which is now operating on different sites: private sites and public roads.
The vehicle is equipped with numerous sensors and an on-board computing system that enables it to interact with its surroundings. It is also intended to provide efficient mobility solutions in terms of space and energy. NAVYA benefits from major advances in technology in the autonomous, electric vehicle sector thanks to its experience in the field and a highly-qualified R&D team. Christophe Sapet, its CEO, is supported by a team of 130 people divided up between Lyon and Paris.
October 2016 saw NAVYA's shareholders unanimously approve a raise in capital of 30 million euros. French groups VALEO and KEOLIS and the Qatari GROUP8 acquired a stake in the company alongside GRAVITATION and CAPDECISIF MANAGEMENT, who joined in 2015 and ROBOLUTION CAPITAL, the original investor.