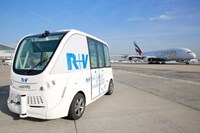 NAVYA has sold two NAVYA SHUTTLE, to one of the largest German insurers, R + V. This new sale will allow R + V, and Frankfurt Airport (Fraport) to use two NAVYA SHUTTLE and doing rides through the Frankfurt Airport. Concerning NAVYA, the French start-up continues its international expansion to export its autonomous and 100% electric mobility solutions.
R + V is one of the largest German insurers for Individuals and Companies, the insurer belongs to the cooperative financial group Volksbanken Raiffeisenbanken.
It's a first for a German airport, R + V and Frankfurt airport, Fraport, will use two NAVYA SHUTTLE in a mixed traffic. The test phases launch of the two NAVYA SHUTTLE took place on last Friday at Frankfurt Airport. For now, only employees should use the shuttle, but Fraport doesn't want to exclude future deployment on the runway – if the previous phases of use were convincing.
The use of both NAVYA SHUTLLE will be on two differents traffic fields. The first will be located on a 1.5-kilometer road at Frankfurt Airport in partnership with Fraport A & G. The second field will be done at the end of the day on public roads. The two NAVYA SHUTTLE will run on closed roads and on public roads at a time.
"Autonomous cars are probably one of the most spectacular innovations in the history of mobility, and with this revolutionary technology, a new era in autonomous car insurance is emerging," According to Norbert Rollinger, R + CEO. V Versicherung.
This project is led by a team of 3 R + V Innovation Labs "Connected Cars" members.
They will collect the maximum information provided by the both NAVYA SHUTTLE with which they can further develop their areas of activity in terms of autonomous vehicles insurances.
Finally, the insurance company is also interested on the influence of automated driving on the level of damage and the frequency of damage.
About NAVYA
NAVYA, created in 2014, is a French company specializing the development of innovative, smart and sustainable mobility solutions. NAVYA develops driverless, automated electric vehicles that are dedicated to first and last mile and independent of all infrastructure. In October 2015, NAVYA launched the NAVYA ARMA, a 100% autonomous, driverless and electric shuttle which is now operating globally on a variety of private sites and public roads.