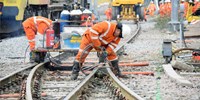 Network Rail's Christmas works have been completed on time, with the £150m modernisation programme – part of the Railway Upgrade Plan – resulting in better, more reliable train journeys for passengers and businesses, as well as improved passenger facilities.
During the Christmas and New Year period, over 20,000 members of Network Rail's Orange Army worked on more than 500 projects nationwide, while simultaneously tackling widespread damage to the rail network caused by devastating storms across much of Britain.
The investment programme saw the successful building of new station facilities, longer platforms, extra tracks and new junctions, and thousands of pieces of new, more reliable equipment were installed.
"I am extremely proud of our team who have worked so hard in the planning and execution of the Railway Upgrade Plan over the last year. This planning allowed them to deliver despite the atrocious weather conditions. It is a great example of what the Network Rail team can do." Mark Carne, Network Rail chief executive
Capacity improvements
Much of the work will help to boost the capacity of the rail network by enabling more passenger and freight trains to run.
As part of the Thameslink Programme's rebuilding of the railway and station at London Bridge, the new viaduct at Borough, in place since 2011, has been brought into use with new track and signalling, and now carries trains to Charing Cross and Waterloo East.
Trains have been running through London Bridge to Charing Cross without stopping since January 2015, but will begin calling again after August this year, when the first half of the new London Bridge concourse opens with fully accessible platforms. At the same time, Cannon Street trains will begin running through London Bridge without stopping, as their platforms will be taken out of use for rebuilding until January 2018.
"By opening Borough Viaduct, we have been able to take two existing tracks out of use for rebuilding, which is a crucial step in the ongoing reconstruction of London Bridge station. Platforms alongside those new tracks are rapidly taking shape." Simon Blanchflower, Thameslink Programme director
On the Crossrail route, the new Stockley flyover between Hayes and Heathrow Airport will increase capacity by creating a second ramp for trains to pass over, while track realignments near Acton main line station over Christmas will improve the access in and out of Paddington station through a busy freight yard when the project is complete.
Norton Bridge junction near Stafford is another capacity improvement scheme that made great progress this Christmas. The flyover will be brought into use in Easter 2016, removing a bottleneck on the West Coast Main Line between Birmingham and Manchester.
Switches and crossings have been upgraded at various locations around the country, including on the Midland Main Line from Kettering to Corby and at Preston on the West Coast Main Line. This vital work will improve journeys by allowing more trains to run.
Resignalling
Resignalling work continues across Britain, with investments in more advanced signalling and control technology to improve reliability.
A key stage of resignalling the Cardiff area was completed over Christmas, as well as the first phase of the Greater Lincolnshire project, focusing on replacing the 100-year-old signalling on the freight lines to and from the port of Immingham. As part of resignalling the 60 miles of track between Scunthorpe and Cleethorpes, 13 signal boxes have now been closed and signalling control transferred to a computer-based system at the York Rail Operating Centre.
At 73 locations across the Crossrail route, 102 new track circuits and 61 new signals have been installed ready for a new signalling system.
"Crossrail will provide a step-change in public transport for many thousands of people in outer London, Berkshire and Essex. Around three quarters of the Crossrail route will run above ground on the existing rail network and the improvements that have been delivered by Network Rail over Christmas are a crucial part of the successful delivery of the new railway." Matthew White, surface director at Crossrail
Electrification
Overhead line electrification has been a focus of the Christmas work on the Great Western Main Line, with over 11,700m of new overhead wires and 134 new masts installed, all in preparation for faster, greener and longer electric trains.
Station improvements
Many of the station improvements and bridgeworks this Christmas have been in readiness for new electric trains, with platforms lengthened and lowered at Paddington station, and a number of upgrades to stations between Forest Gate and Shenfield in preparation for Crossrail, including longer platforms at Goodmayes, a refurbished footbridge at Gidea Park and overhead line upgrades at Shenfield.
Improving access is another priority. Today (Monday 4 January) is the official opening of the new southern entrance to Leeds station, which features steps, escalators and a lift from its concourse deck over the River Aire, providing a fully accessible route to the city's Granary Wharf area adjacent to the Leeds Liverpool Canal.
A new footbridge built at Leyland station in Lancashire over Christmas is also part of the Access for All programme to improve accessibility.
While the 2015–2016 Christmas and New Year improvements have been a success, work on Network Rail's Railway Upgrade Plan is ongoing and will continue throughout this year, in partnership with contractors and the Government.
"Network Rail and the operators have delivered essential improvements to the rail network over the Christmas period. These are crucial for providing better journeys for passengers, progressing key projects such as Crossrail and the Thameslink Programme and nearly £100m of improvements in Lincolnshire, as part of our record investment in the railways.
I welcome the news that this has been completed on time. I would like to thank passengers for their patience, and pay tribute to the men and women who have been working in challenging weather conditions for much of the time." Transport Secretary Patrick McLoughlin
About Network Rail
Network Rail owns, manages and develops Britain's railway – the 20,000 miles of track, 40,000 bridges and viaducts, and the thousands of signals, level crossings and stations (the largest of which we also run). In partnership with train operators we help people take more than 1.6bn journeys by rail every year - double the number of 1996 - and move hundreds of millions of tonnes of freight, saving almost 8m lorry journeys. We're investing £38bn in the railway by 2019 to deliver more frequent, more reliable, safer services and brighter and better stations.