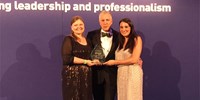 The suicide prevention partnership between Network Rail, British Transport Police, the Rail Industry Suicide Stakeholder Group and Samaritans has scooped the prestigious Charity Times' Corporate Social Responsibility (CSR) Project of the Year award.
As part of the partnership programme, staff working on the railway are trained to spot anyone who may be at risk of taking their own life and to lead them to safety and sources of support. The programme also creates awareness-raising campaigns that encourage people to reach out for help before they get to a point of crisis, and Samaritans works with rail staff and the public, offering emotional support following traumatic incidents of death or injury.
"Our work with Samaritans, the British Transport Police and the rail industry to prevent suicides on the rail network is something we are incredibly passionate about, and we feel very proud that our hard work in this area is being recognised.
"We know that suicide is a complex issue and it is only by coming together that we have the ability to make real progress, and encourage more people to seek the help and support they need before they reach crisis point.
"Over the past six years more than 12,000 rail staff and transport police officers have been trained, to equip them with the skills and confidence they need to approach and support those who may be vulnerable, and we know that these interventions are helping to save lives across the country.
"We look forward to continuing this important work with our industry partners and training more of our staff over the coming months so we can go even further in preventing suicides across our network." Ian Stevens, who manages the Suicide Prevention Programme on behalf of Network Rail and the wider rail industry
The number of suicides on the railway fell by 12 per cent last year, the first time there has been an annual reduction since 2012. Railway staff, police officers and members of the public have saved over 1,100 people in 2015/16, having intervened in potential suicide attempts on Britain's railway.
"Suicide is everybody's business. By joining up with industry and employers to train staff in suicide prevention techniques and raise awareness of Samaritans' services, we can save lives.
"We are grateful to the rail industry for leading the way in ground breaking partnership work and hope that this nomination will inspire other sectors to look at how suicide prevention can be incorporated into their CSR activities too." Ola Rzepczynska, strategic programme manager, Samaritans
Whatever you're going through, you can call Samaritans for free at any time, from any phone, on 116 123. This number is free to call and will not appear on your phone bill.
About Network Rail
Network Rail owns, manages and develops Britain's railway – the 20,000 miles of track, 40,000 bridges and viaducts, and the thousands of signals, level crossings and stations (the largest of which we also run). In partnership with train operators we help people take more than 1.6bn journeys by rail every year - double the number of 1996 - and move hundreds of millions of tonnes of freight, saving almost 8m lorry journeys. We're investing £38bn in the railway by 2019 to deliver more frequent, more reliable, safer services and brighter and better stations.