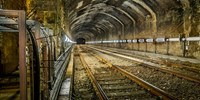 Chiltern Railways and Network Rail today opened a new rail link connecting central Oxford with the capital, following a unique £320m investment by the franchise operator and the infrastructure manager.
The completion of the new rail link to London – the first from a major British city in more than 100 years – sees central Oxford connected to Marylebone via successful new stations Oxford Parkway and Bicester Village. It has been just 12 months since the line opened from Oxford Parkway on the outskirts of Oxford in October 2015. The first year has seen over 1.5 million passengers using the line; this is expected to grow to with the extension into the city.
Chiltern's new service offers Oxford commuters an alternative to travelling into London. The new service will offer two new trains per hour throughout the day between Oxford and London Marylebone with journey times to the capital from around an hour.
The new link is part of Britain's Railway Upgrade Plan and is an example of new, direct competition on Britain's railways creating choice and flexibility for customers. It represents a £320m investment by Network Rail and Chiltern Railways which have jointly funded the project. The idea for the line was conceived by Chiltern Railways who invested £130million of the £320million total cost. Network Rail constructed the line on time and within budget as part of the wider East West Rail project, contributing £190m.
A close collaborative partnership between Chiltern Railways and Network Rail has delivered high levels of performance. At time of launch Chiltern Railways are one of the most punctual rail operators in the UK and the company is consistently one of the top rated franchise operators for customer satisfaction in the National Rail Passenger Survey.
"This is the first new rail link between a major British city and the capital in 100 years and also a shining example of partnership working between the private and public sector."
"From today travellers to and from London Marylebone and Oxford will get increased choice, more trains and faster journey times. The link is also an important part of the new East West line to be built between Oxford and Cambridge and will bring growth and prosperity to this corner of Britain." Chris Grayling, Transport Secretary.
"This is a significant milestone in the history of Chiltern Railways. The new line delivers meaningful benefits for those living and working in the region and will be economically advantageous for the regional economy.
"It creates direct competition in the rail market between Oxford and London giving customers a real choice and flexibility, as well as delivering the first new service between a major British city and London for over 100 years." Dave Penney, managing director of Chiltern Railways
"I am delighted that Network Rail has delivered the first part of East West Rail on time and on budget for our customers.
"What's really satisfying is how this happened: Chiltern told us what their customers wanted and put up some money - then Network Rail, working closely with Chiltern, made it happen.
"Privately-funded railway upgrades to improve service based on customers' needs - that is exactly what Network Rail is all about. Here's to many more railway upgrades following this model in future." Mark Carne, chief executive of Network Rail
About Network Rail
Network Rail owns, manages and develops Britain's railway – the 20,000 miles of track, 40,000 bridges and viaducts, and the thousands of signals, level crossings and stations (the largest of which we also run). In partnership with train operators we help people take more than 1.6bn journeys by rail every year - double the number of 1996 - and move hundreds of millions of tonnes of freight, saving almost 8m lorry journeys. We're investing £38bn in the railway by 2019 to deliver more frequent, more reliable, safer services and brighter and better stations.