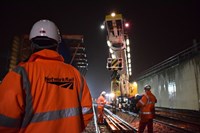 Network Rail has today announced that it is halfway through the delivery of the £2.3bn investment programme to improve the existing railway for the Crossrail programme.
Three quarters of the Crossrail route runs above ground on the existing rail network through outer London, Berkshire and Essex. To deliver the Crossrail service on these sections of the route, Network Rail is undertaking a £2.3bn investment programme to:
Add capacity on key parts of the network, including more than 30 miles of new track, the delivery of a new flyover in Hillingdon and a new diveunder tunnel beneath the railway at Acton
Improve 29 stations, including the delivery of more than 40 lifts, platform extensions at 16 locations to accommodate longer trains and a complete rebuild of nine stations to provide new, spacious, bright ticket halls
Electrify the Great Western Main Line in west London and Berkshire to allow for the introduction of new, quiet, greener and more reliable electric trains
Install modernised signalling systems to allow for more services to run more reliably
Construct new sidings to stable Crossrail trains overnight.
Rail Minister Claire Perry said: "These works are a vital part of delivering Crossrail, and the half way point is a real milestone in Europe's largest infrastructure project. The vast improvements on the existing rail network go hand-in-hand with the impressive tunnelled sections. Together they will create a transformational rail link that will bring better and faster journeys for passengers across London and beyond from 2018, boosting jobs and economic growth."
Mark Carne, Network Rail Chief Executive, said: "As part of our railway upgrade plan, we are delivering this vital component of the Crossrail programme on time and on budget. There is still a huge amount of work to do but we are on schedule to provide passengers in London and the South East with better connections, quicker, easier journeys and vastly improved stations."
Andrew Wolstenholme, Crossrail Chief Executive, said: "While much of the focus has been on the tunnels and new stations in central London, Network Rail has been working hard to make sure that the existing railway is ready for Crossrail. This crucial work on Crossrail's surface section will deliver major benefits for passengers and help to transform many of the areas through which the route will run."
Work carried out to date includes:
West London and Berkshire
The completion of the first section of the Stockley Flyover, a huge new rail bridge at the junction to Heathrow
The excavation of a new diveunder at Acton, a short tunnel beneath the railway to remove a bottleneck on the Great Western Main Line
Upgrades underway at stations to the west of London, including major overhauls at Ealing Broadway, Hayes & Harlington and West Ealing
Work to electrify the Great Western Main Line including the demolition and replacement of six bridges over the railway in Slough and South Bucks
The implementation of a new, modern signalling system between Heathrow Junction and Reading which will improve reliability and support the future operation of Crossrail and Great Western services.
East London and Essex
At Abbey Wood, an interim station has been opened and the old station demolished. Work has begun to construct a new station and more than a mile of new track has been installed
Improvement works are underway at a number of stations in east London and Essex, including the provision of new lifts and longer platforms
Track upgrades carried out at Brentwood and Chadwell Heath will help to provide for a more reliable service for passengers.
The new TfL-run Crossrail service will provide passengers across London and the South East with quicker and more reliable journeys, new trains and better stations. Crossrail will bring an extra 1.5 million people to within 45 minutes of central London and help to transform many of the areas through which the route runs, creating jobs, business opportunities and driving regeneration.
About Crossrail
Network Rail is responsible for the design, development and delivery of the parts of Crossrail that are on the existing network.
The total funding available to deliver Crossrail is £14.8bn. The Crossrail route will serve 40 stations and run more than 100km from Reading and Heathrow in the west, through new twin-bore 21 km (13 miles) tunnels below central London to Shenfield and Abbey Wood in the east.
Crossrail is being delivered by Crossrail Limited (CRL). CRL is a wholly owned subsidiary of Transport for London. Crossrail is jointly sponsored by the Department for Transport and Transport for London.
About Network Rail
Network Rail owns, manages and develops Britain's railway – the 20,000 miles of track, 40,000 bridges and viaducts, and the thousands of signals, level crossings and stations (the largest of which we also run). In partnership with train operators we help people take more than 1.6bn journeys by rail every year - double the number of 1996 - and move hundreds of millions of tonnes of freight, saving almost 8m lorry journeys. We're investing £38bn in the railway by 2019 to deliver more frequent, more reliable, safer services and brighter and better stations.