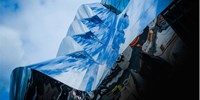 More rail journeys happened last year than at any time in railway history, Network Rail's annual report reveals today, enabling economic growth, job creation and housebuilding. The report details how the company is responding in terms of a greater focus on customers, an uncompromising focus on safety, a focus on economies and the delivery on time and budget of significant enhancements across the railway network.
A detailed assessment of performance across each of the company's eight geographic routes is published for the first time and is at the heart of Network Rail's move to greater devolution to the routes and closer working directly with our customers.
This has led to route scorecards, measuring performance at the local level, which have been drawn up in conjunction with the train operating companies, so that Network Rail can judge and measure itself on what customers want and experience.
The report highlights a year of strong progress for the Railway Upgrade Plan with delivery of some major infrastructure projects, which include:
—the Royal opening of the rebuilt and expanded Birmingham New Street station
the brand new Borders Railway, which was opened by the Queen in September
an enhanced and redeveloped Manchester Victoria station
good progress on the Cardiff Area signalling programme
new signalling in East Kent, allowing better timetabling and longer trains.
But the report is also clear that the year has seen some significant challenges for Network Rail, with some notable schemes costing more than envisaged, resulting in a comprehensive review of the company's enhancement programme by Sir Peter Hendy, CBE, the company's new chair. Network Rail is also now working to implement the recommendations of the Shaw Review which looked at the company's future shape and financing.
The year also saw another increase in demand for the railway with passenger kilometres travelled rising to 64.4billion kilometres, up by over two billion on the year before.
Over the year, we invested a record £3.53bn in expanding and growing Britain's rail network. The Railway Upgrade Plan is designed to provide more capacity, relieve crowding and respond to the tremendous growth Britain's railways continue to experience; passenger numbers have doubled in the past 20 years and are set to double again over the next 25 years – so we need to continue to invest in building a bigger, better railway. For passengers, that means:
longer, faster more frequent trains
better, more reliable infrastructure
and better facilities for passengers, especially at stations.
The annual report also identifies progress in developing the Digital Railway programme which aims to deliver increased capacity, safety and reliability through smart technology. And Network Rail's property arm increased like-for-like sales by 3.6 per cent through the year and is now looking at what commercial assets it might sell in order to raise money to invest in the upgrade of the network.
"In the last two decades, passenger numbers have more than doubled and are continuing to grow, with record numbers of people using the railway in the last year. In addition, freight trains are delivering more goods than ever all over the country, taking 7.6million lorries off the road each year.
"These record increases create economic growth and jobs and enable housebuilding in the UK, but with it come challenges. Large parts of the railway network are nearly full – we now have the most heavily congested railway in Europe with no slack in the system for delays of any sort. To that end, we plan to modernise our systems with new technologies to free up more capacity from existing rail infrastructure.
"While the vast majority of our projects are delivered on time and budget, there are a small number of high value projects where the scope of work was poorly defined at the outset. A few projects will now be delivered later than originally planned but I am pleased to say none have been cancelled and additional costs will be met through £700m from Treasury and our commitment to raise £1.8bn through the sale of property assets whose Network Rail ownership is not crucial to the safe and reliable running of the railway.
"I am very proud of the commitment of Network Rail staff and contractors over a demanding and busy year. Through their efforts we have repaired and maintained track, bridges and stations across Britain as well as delivering some amazing new projects like the Borders Railway and Birmingham New Street, to name but two – and all this despite some appalling weather." Sir Peter Hendy, CBE, chair of Network Rail
About Network Rail
Network Rail owns, manages and develops Britain's railway – the 20,000 miles of track, 40,000 bridges and viaducts, and the thousands of signals, level crossings and stations (the largest of which we also run). In partnership with train operators we help people take more than 1.6bn journeys by rail every year - double the number of 1996 - and move hundreds of millions of tonnes of freight, saving almost 8m lorry journeys. We're investing £38bn in the railway by 2019 to deliver more frequent, more reliable, safer services and brighter and better stations.