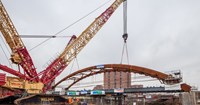 Last year Network Rail spent £276m with 324 North West-based businesses
Ordsall Chord in Manchester supporting 2,000 jobs and engaging over 200 suppliers
Network Rail is supporting more than 9,000 jobs in the North West, new figures revealed today (Friday 3 March).
Martin Frobisher, managing director for Network Rail's London North Western route:
"Today I can reveal Network Rail alone is supporting around 9,300 jobs across the North West of England and spending money with 324 local businesses."
"The railway is vital to economic growth. That's why we're spending £100m every week in Britain on our Railway Upgrade Plan. A great example of this plan in action is the Ordsall Chord in Manchester, supporting 2,000 jobs and involving over 200 suppliers."
Chris Fletcher, marketing and policy director at Greater Manchester Chamber of Commerce:
"The focus on rail investment in the North West is hugely welcome. While there will be immediate economic benefits from the delivery of these projects, the main growth will happen in years to come."
The Ordsall Chord, due to be completed by December, is a new section of track linking Manchester's main stations – Piccadilly, Oxford Road and Victoria – opening up new direct routes to Manchester Airport from across the north, and easing congestion by a quarter through the city.
Last week, Ordsall's 600-tonne arch, the only one of its kind in Britain, was craned into position by Severfield, a northern company who made the arch at their Bolton factory.
Jarrod Hulme, project manager for Severfield:
"Working on key rail projects, such as the Ordsall Chord, has helped Severfield grow, enabling us to employ more staff in our factories in the north of England and develop local supply chains to support our business.
"Thanks to these type of projects we have also been able to invest in our apprentice and graduate schemes, which will help educate and train the next generation of specialist steel designers, technicians, fabricators and project managers for future development across the region."
At a glance
News of Network Rail's boost to the economy in the north west follows the announcement last year that Network Rail is releasing land for up to 3,600 new homes in Manchester and the north.
The Ordsall Chord, part of the Great North Rail Project, had around 200 people working on it two years ago, and has grown to over 2,000 at its peak (Christmas 2016). Over 3,000 staff have been inducted on to site so far.
The Ordsall construction scheme is boosting the regional economy, with around £80m being spent with companies within 25 miles of the project with 62% of those sub-contractors being SMEs (small and medium-sized businesses). The project has supported 15 apprentices and 20 graduates through Network Rail and their suppliers, investing in the careers of local people across the region.
Martin Frobisher added: "We intend to keep contributing to the economy in the North West, working with local businesses and creating jobs for local people on improving the railway to bring more connectivity and even more prosperity to all."
To deliver the project, Network Rail and its Alliance partners have called upon the skills and resources of over 200 different suppliers. These include signalling and gantry design, fabrication and installation, heritage and structural restoration of existing structures, demolition, insitu-reinforced concrete works, security services, labour hire, traffic management.
Across the north west, Network Rail supports 9,300 local jobs with 4,737 people directly employed and a further 4,600 jobs in our supply chain.
The 4,737 people from the north west who work for Network Rail come from every part of the region, all 75 north west parliamentary constituencies.
Network Rail spends £100m every single week on improving the railway in Britain.
Across Britain, Network Rail supports an estimated 154,350 jobs, with 36,000 people directly employed and a further 117,750 jobs in our supply chain.
During 2015/16, Network Rail spent £7bn with 3,435 companies across Great Britain, 2500 of which were small or medium enterprises.
There are more than 4.5 million rail journeys in Britain every day.
About Network Rail
Network Rail owns, manages and develops Britain's railway – the 20,000 miles of track, 40,000 bridges and viaducts, and the thousands of signals, level crossings and stations (the largest of which we also run). In partnership with train operators we help people take more than 1.6bn journeys by rail every year - double the number of 1996 - and move hundreds of millions of tonnes of freight, saving almost 8m lorry journeys. We're investing £38bn in the railway by 2019 to deliver more frequent, more reliable, safer services and brighter and better stations.