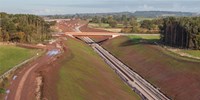 A six-mile section of railway line and 11 new bridges are being built to create a rail-over-rail flyover at Norton Bridge, Staffordshire, and remove a bottleneck on the existing rail network.
With a completion date of Easter 2016, the work is the latest phase of Network Rail's £250 million Staffordshire Area Improvements Programme, which will deliver the capability for more passenger and freight trains to run on the line. The flyover will replace an existing flat-bed junction so that trains no longer have to wait at Norton Bridge.
The new track starts from a new siding created at Little Bridgeford and is being laid using the High Output New Track Construction (NTC) machine, which is up to 50 per cent faster than conventional track-laying methods.
It works by transporting new sleepers from trailing wagons and placing them onto a conveyor system that moves them to the head of the train before they are placed on to the track bed. Once the sleepers have been aligned to the correct spacing automatically, the new rail is run through a series of rollers/clamps and clipped onto them.
Around one million tonnes of earth excavated from a cutting for the new line is being used to create embankments and bunds, which are specially shaped mounds of earth designed to protect wildlife by preventing barn owls from flying along the rail route, for instance.
The Staffordshire Alliance – a partnership including engineering businesses Atkins and Laing O'Rourke, rail infrastructure contractor VolkerRail, and Network Rail – is delivering the work.
"It's great to see the track going in and the site really taking shape after all the hard work that has taken place.
We're making great progress at Norton Bridge and it's satisfying to know that our work, as part of Network Rail's wider Railway Upgrade Plan, will deliver greater performance and reliability for passengers."
Matt Clark, Staffordshire Alliance manager
Earlier stages of the Staffordshire Area Improvements Programme have already been completed, with line-speed upgrades between Stafford and Crewe delivered ahead of schedule in 2014 – taking the speed possible on slower lines along the route from 75mph to 100mph.
Phase two of the programme – completed on time over the August Bank Holiday – involved resignalling Stafford. The signalling control was transferred to Rugby, and line-speed improvements were carried out between Stafford and Great Bridgeford (near Norton Bridge).
About Network Rail
We aim to provide a safe, reliable and efficient railway
Today more people travel by rail than at any point since the 1920s, when the rail network was around twice its current size.
Every year 1.3 billion journeys are made on Britain's railway and 100 million tonnes of freight is transported by rail between ports, factories and shops.
A million more trains run every year than just five years ago but the increasing popularity of rail means that, at peak times, there is no space for more trains on the busiest parts of the network.
Despite this, demand is still increasing. Over the next 30 years passenger demand for rail will more than double and freight demand is expected to go up by 140%.
How we will achieve our aim
We're improving the rail network, providing faster, more frequent and more reliable journeys between Britain's towns and cities. This is bringing people and businesses closer together, making Britain more competitive and a better place to do business.
This brings wider benefits to the economy; rail investment stimulates private sector growth, and we are investing in our workforce and introducing new technologies.
When we took over the railway network in October 2002, we inherited an infrastructure that had been starved of investment for many years. There are around 35,000 of us at Network Rail who are working hard day and night to improve every aspect of the railway. We have made enormous progress. Under our stewardship, the railway is already safer, more reliable and more efficient.