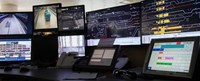 A new delay-busting traffic management system on the Great Western Railway will boost performance on train journeys between London Paddington and Bristol Parkway.
Thanks to a two-year contract agreed between Network Rail and the British signalling and train control specialist Resonate, a one-year trial of Luminate traffic management system could see reactionary delays reduced by up to 15 per cent.
Traffic management systems on the railway manage and monitor the flow of trains, identifying conflicts, allowing plans to be changed, and so more effectively reduce delays and the impact to passengers.
The system takes into account the different types of trains and services operating across the network, forecasting their forward journey and highlighting any potential conflicts or delay. When disruption occurs, traffic management enables real-time re-planning to happen quickly so that train services can get back to normal as fast as possible, minimising delays. This benefits train and freight operating companies and passengers alike.
The project to deploy the system has already started. Once finished in June 2018, the trial will run for a year until 2019.
"This is a really exciting time on the railway and particularly on the Western route as we move towards a more efficient digital railway and introduce a fleet of new modern trains.
"On a crowded network one issue can cause several delays so any opportunity to improve train performance for passengers and freight and deliver real measurable passenger benefits is welcome.
"Being a devolved route organisation has enabled us to move faster and get this trial up and running quickly in a new, innovative way."
Mark Langman, Western route managing director, Network Rail
Network Rail and Resonate have agreed an innovative and ground-breaking way to finance the project so that the cost to Network Rail and the taxpayer is minimal and the financial benefits will be shared. In practice, this means that Resonate is picking up much of the costs to install and run the system. If reactionary delays reduce as predicted, compensation paid to train operating companies will also shrink and the money saved shared between Network Rail and Resonate.
"Thousands of passengers will benefit from the introduction of this cutting edge technology that could reduce train delays by up to 15 per cent on the main lines out of London Paddington.
"We have also revolutionised the way we work with suppliers in the last year so that together, we can deliver real improvements to the railway and show measurable passenger benefits. Early contractor involvement and true partnership working is at the heart of all Digital Railway proposals. The pace at which we have designed and will deliver this trial is a testament to that approach.
"We need our partners in the supply chain to be 100 per cent invested in the products they provide for us, so why not share the costs and share the benefits? That's the way to produce first-rate improvements to the railway. We're not interested in paying a fortune for a product and then when challenges come our way, as they inevitably do, having none of the product expertise in the organisation to deal with them.
"I'm delighted to be working with Resonate on this project to improve performance on the Great Western railway. The last remaining British signalling company, it has a stellar track record and will undoubtedly be a great partner to implement this trial by early summer 2018."
David Waboso, group managing director for Digital Railway
"Digital Railway's enlightened and open collaborative approach to early contractor involvement was the catalyst for our proposal. Understanding the outcomes required, as well as the business case, enabled us to make a ground-breaking commercial offer.
"We are delighted that our digital platform, developed in the UK, will be used on this busy and complex route to reduce train delays. We look forward to continuing to work closely with Digital Railway and the Western route to improve passenger journeys."
Anna Ince, chief executive officer at Resonate
The Department for Transport has been working very closely with the Digital Railway team on numerous proposals and business cases to increase capacity and improve performance on Britain's railway.
"Digital railway technologies will allow us to safely and securely put more trains on our network. This means more service, more space and more choice for passengers, and we have always said that we want to see passengers at the heart of everything we do on the railway.
"I am delighted to see Network Rail choosing to work closely with an innovative, British company to realise the benefits that digital technologies can bring to passengers and the economy."
Rail Minister Paul Maynard
About Network Rail
Network Rail owns, manages and develops Britain's railway – the 20,000 miles of track, 40,000 bridges and viaducts, and the thousands of signals, level crossings and stations (the largest of which we also run). In partnership with train operators we help people take more than 1.6bn journeys by rail every year - double the number of 1996 - and move hundreds of millions of tonnes of freight, saving almost 8m lorry journeys. We're investing £38bn in the railway by 2019 to deliver more frequent, more reliable, safer services and brighter and better stations.