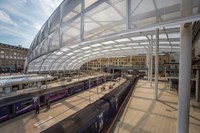 A train station once labelled Britain's worst was formally reopened following a £44m facelift. As well as maintaining Manchester Victoria's heritage gems, its upgrade by Network Rail involved building a vast new roof made from the same material used at the Eden Project, giving train passengers and station users a light, spacious environment, including new shops and cafes, to enjoy.
The modernisation of the station, carried out while it remained operational, is part of a £1bn+ investment programme to boost rail capacity and connectivity together with the speed and frequency of services across the north of England.
Transport for Greater Manchester and Network Rail have worked to incorporate the expansion of the Metrolink tram network at Manchester Victoria into the redeveloped station, which now has four new tram platforms and three new tracks.
Transport Secretary Patrick McLoughlin unveiled a plaque declaring the new station open at a ceremony beside Soldiers' Gate, which local service personnel passed through before heading off to fight in World War One, some never to return.
Mr McLoughlin said: "I want to congratulate everyone involved in this remarkable project. It's fantastic to see Manchester Victoria once again a station fit for the city. It's now a symbol of opportunity, not neglect, and proof that this one nation government is building the Northern Powerhouse.
"The North is receiving a wave of investment in its transport infrastructure on a scale not seen for generations, with £4.5 billion in the North West alone. The benefits are already being delivered, with 71,000 more businesses in the North West than in 2010 - a clear sign our long-term plan to secure a stronger, healthier economy is working."
At the ceremony Martin Frobisher, route MD for Network Rail, formally handed the station back to Alex Hynes, MD of Northern Rail, the train company which manages its day-to-day running.
Manchester Victoria, which first opened in January 1844, was labelled Britain's "worst station" in the Department for Transport's 2009 report 'Better Stations'.
Mark Carne, chief executive of Network Rail, said: "Six years ago it was dubbed Britain's worst station - today it must surely be among the country's best.
"For far too long people travelling in and out of Manchester Victoria had to make do with a tired and dark station. The contrast today is remarkable. Manchester Victoria station is modern, clean and flooded with natural light; a station this great city so badly needs. It is a key part of our £1bn programme to modernise the railway for the whole of the north of England."
Alex Hynes, Managing Director for Northern Rail, said: "Victoria feels like a brand new station to us and it's a fantastic testament to a successful working partnership between ourselves, Network Rail and the City of Manchester.
"It's a light, bright and contemporary station for our modern day customer and we're delighted with the results of the redevelopment. Manchester is an increasingly important city in the North and now it has the station it so rightly deserves."
Sir Richard Leese, leader of Manchester City Council and Greater Manchester Combined Authority (GMCA) lead on strategic rail, said: "Transport is the lifeblood of a thriving city and between now and 2017 our city centre will see more than £1b invested in new projects, the kind of investment not seen for generations.
"We are committed to making travel easier and better, ensuring better connections between our towns and cities and providing seamless travel right across the north of England.
"With tram and train services all together under one impressive new roof, the transformed Manchester Victoria station is an example of how we're beginning to make a difference as we work towards becoming a city with world-class transport infrastructure."
About Network Rail
Network Rail owns, manages and develops Britain's railway – the 20,000 miles of track, 40,000 bridges and viaducts, and the thousands of signals, level crossings and stations (the largest of which we also run). In partnership with train operators we help people take more than 1.6bn journeys by rail every year - double the number of 1996 - and move hundreds of millions of tonnes of freight, saving almost 8m lorry journeys. We're investing £38bn in the railway by 2019 to deliver more frequent, more reliable, safer services and brighter and better stations.