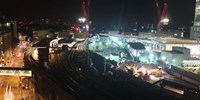 Hundreds of thousands of passengers and freight users will benefit from one of the biggest Christmas and New Year investment programmes ever carried out on Britain's rail network.
New station facilities, longer platforms, extra tracks, new junctions and thousands of pieces of new, more reliable equipment will be installed and delivered in a £150m investment programme to expand and improve the railway, beginning in the very early hours of Christmas Day, once the last trains have run.
Almost 500 individual projects will be carried out at 7,500 sites across Britain over the festive period, resulting in significant improvements across the network.
Network Rail has planned the work to take advantage of the relatively quiet time of the year on the railway, helping train operators minimise disruption. On average, around half the usual five million people travel by train each day during the Christmas period, and traditionally train services don't run on Christmas Day.
Earlier this year, an independent review of how the rail industry plans and schedules major improvement work concluded that Christmas, Easter and bank holidays are the best times to carry out upgrades requiring major line closures, particularly in and around London, where the network is busiest and access for engineers is most difficult.
Most train services will be running over the holiday period, apart from on key bank holiday dates, but some services will be affected. Rail passengers across Britain are advised to leave plenty of time for their journey, wherever they are travelling this Christmas, and to check their journey plans in advance.
Barry Robinson, a track section manager who leads a team of 11 at Leeds station, is one of more than 20,000 members of Network Rail's 'Orange Army' working over the Christmas and New Year period to deliver the Railway Upgrade Plan.
"This Christmas, I'll be giving up time with my family to help make sure we get the essential work done to keep the railway safe and reliable for the public. There are a lot of large projects going on this Christmas, which all need to be fully staffed.
I've put my name forward for the Christmas period this year because quite a few of the others on the team have young kids and want to spend time with them. I'm glad to say I've been there and done that, which is why I'm happy to do my bit this Christmas, along with thousands of others at Network Rail.
The amount of trains coming in and out of Leeds station takes its toll on the tracks, so the work definitely needs doing. There'll be plenty of time for a turkey sandwich when the shift is over."
Barry Robinson
Among the major improvement projects, the Thameslink Programme will be continuing to rebuild the railway around London Bridge, while at Purley, near Croydon, a busy junction is being replaced to help double rail capacity at Gatwick by 2020 and treble it by 2035.
There will be major work on the tracks and signalling at London Bridge, and a new viaduct at Borough is being brought into use for the first time – all part of the scheme to rebuild London Bridge station and the surrounding railway to give passengers across the south east more trains to more destinations.
Both projects will mean nine days of changes to train services on lines from London Bridge, Charing Cross, Cannon Street and Victoria, from 1pm on Christmas Eve to Sunday 3 January 2016. From 8pm on Christmas Eve there will be no Southeastern trains from Charing Cross, Cannon Street, Waterloo East and London Bridge, with diversions to Victoria and Blackfriars, or New Cross.
There will also be significant changes to trains to Gatwick Airport, Brighton and stations along the south coast from late on Christmas Eve to Sunday, 3 January 2016. Trains will run – but some journeys may take longer than usual and the Gatwick Express service will be suspended.
"We are acutely conscious that many people want to use the railway over the festive period to reunite with their friends and families, which is why the vast majority of the network is running normally.
I'd like to apologise to any passengers whose plans are affected by our improvement work, but I'd also appeal for their support and understanding as we deliver the big improvements that the travelling public want to see.
Since last Christmas we have completely reviewed and revised how we plan and manage major upgrades. The new measures we have put in place have seen us already deliver hundreds of millions of pounds of improvement work over four separate bank holiday weekends on time, including the single biggest track replacement project ever at Bathampton in August.
We are continuing to review all the risks associated with our improvement programme this Christmas to make sure that our plans are as robust as possible and we deliver improvements for passengers on time."
Mark Carne, Network Rail chief executive


About Network Rail
Network Rail owns, manages and develops Britain's railway – the 20,000 miles of track, 40,000 bridges and viaducts, and the thousands of signals, level crossings and stations (the largest of which we also run). In partnership with train operators we help people take more than 1.6bn journeys by rail every year - double the number of 1996 - and move hundreds of millions of tonnes of freight, saving almost 8m lorry journeys. We're investing £38bn in the railway by 2019 to deliver more frequent, more reliable, safer services and brighter and better stations.