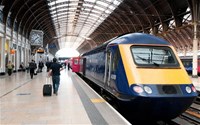 Network Rail has today announced it is encouraging contractors, suppliers, and stakeholders to propose changes to its 'standards' – the detailed requirements that underpin how the railway and the delivery of improvement projects are run. The changes are to encourage greater innovation, cost efficiency and third-party funding into the rail network, whilst maintaining safety.
As part of its 'Open for Business,' agenda, the infrastructure company, which owns, manages and develops Britain's railway, has already updated and streamlined 400 of these standards to reduce both complexity and cost, and to encourage innovation.
Suppliers and other stakeholders will also be asked to proactively suggest better ways of maintaining and enhancing the railway via Network Rail's new standards challenge process.
The move – part of a wider agenda to transform tax-payer funded Network Rail to a public sector organisation that behaves like a private sector business – represents a significant step toward breaking down barriers and makes it easier to introduce new ideas and streamlined procedures. Network Rail hopes these initial steps – part of its wider Transformation Plan – illustrate its commitment to becoming more customer-focused, more competitive and more attractive commercially to investors.
Safety first
Network Rail's standards exist to ensure Britain has a safe, high performing and cost efficient railway, but they are often seen as overly complex and adding unnecessary cost. The company's Transformation Plan and response to The Hansford Review both identified a number of opportunities to address this by encouraging suppliers and other stakeholders to proactively challenge its standards to increase innovation and creativity, and propose more cost effective solutions.
Network Rail therefore adopted a collaborative and iterative approach in developing the new standards challenge process in partnership with the Railway Industry Association (RIA) and a number of key suppliers and stakeholders. Over the past 18 months Network Rail has also updated 400 of their most critical standards using a risk-based approach.
As part of the process, suppliers and other stakeholders are now able to submit a standards challenge application when they consider the standard to be incorrect, not enable the application of best practice, or drive increased cost without comparable benefit. Network Rail will review all challenges received, and conduct a rigorous impact assessment across a broad range of output capabilities such as safety, performance, environment and compatibility to make sure the capabilities are not compromised.
Incentives
Following the launch of the process, appropriate incentives are to be progressively introduced to encourage challenges, for example, through providing corporate recognition of successful applications, assessing contract performance in relation to standards innovation or in certain scenarios sharing a proportion of savings realised following a successful challenge on a project.
As the scope covers Network Rail's whole portfolio of policies, standards, processes and specifications, including initiating dialogue with the Rail Safety and Standards Board (RSSB) in relation to Railway Group and Industry Standards, there's excitement to see what limitations can unanimously be removed and the opportunities that will be enabled through successful challenges.
"We've recently updated our 400 most critical standards but to ensure they always represent current best practice and constantly strive to safely reduce the cost of the railway, we need the help of our wider industry partners as well as experts from other industries and universities. The launch of the standards challenge process is the lever for this, providing genuine recognition and incentives to propose more efficient ways of both enhancing and maintaining our railway."
Jon Shaw, chief engineer at Network Rail
Industry response
"We were delighted last year to assist Network Rail in finding a way to review their standards. The standards challenge was a key recommendation of the Hansford Review into contestability and provides rail suppliers with the ability to question overly rigorous standards thereby unlocking innovation, getting new technologies into the network and reducing costs – ultimately to the benefit of passengers and taxpayers.
"Following two workshops with the rail supply chain, Network Rail have a system by which companies can provide their suggestions and ideas. Now, it is for the industry to come forward with their creative solutions – and we encourage all to do so.
"RIA looks forward to continuing its active role in this initiative – working alongside Network Rail and the wider industry – to ensure railway standards are the most effective and efficient they can be."
David Clarke, technical director of the Railway Industry Association (RIA)
"We're committed to product innovation and the evolution of the highest technical standards for the UK rail network. We welcomed the opportunity to work with RIA and identify opportunities for change in the Network Rail standards. I would encourage other members of the supply chain to follow suit as this is a great opportunity to be an active participant in the evolution of standards and help deliver a more efficient rail system in the UK."
Peter Smith, British Steel managing director, Rail
Dura Composites, supplier of composite products for the rail industry, has been working closely with Network Rail to put in place stringent fire safety standards for Glass Reinforced Plastic (GRP) products in a wide range of evacuation and non-evacuation routes.
"GRP products are playing an increasingly important role in the rail industry thanks to their high strength to weight ratio, durability, electrical resistance, and as such, Network Rail wanted to update its fire safety specifications. As a result, classifications have been published that cover both structural and non-structural applications.
"Dura were grateful for the opportunity to take part in the standards challenge and look forward to continuing this work with RIA and Network Rail to bring further innovation to the market. This follows on from our success with Dura's Award-Winning Dura Platform and Dura Slab Structural Stair Treads."
Tom Bowman, commercial director and material science expert at Dura Composites
About Network Rail
We aim to provide a safe, reliable and efficient railway
Today more people travel by rail than at any point since the 1920s, when the rail network was around twice its current size.
Every year 1.3 billion journeys are made on Britain's railway and 100 million tonnes of freight is transported by rail between ports, factories and shops.
A million more trains run every year than just five years ago but the increasing popularity of rail means that, at peak times, there is no space for more trains on the busiest parts of the network.
Despite this, demand is still increasing. Over the next 30 years passenger demand for rail will more than double and freight demand is expected to go up by 140%.
How we will achieve our aim
We're improving the rail network, providing faster, more frequent and more reliable journeys between Britain's towns and cities. This is bringing people and businesses closer together, making Britain more competitive and a better place to do business.
This brings wider benefits to the economy; rail investment stimulates private sector growth, and we are investing in our workforce and introducing new technologies.
When we took over the railway network in October 2002, we inherited an infrastructure that had been starved of investment for many years. There are around 35,000 of us at Network Rail who are working hard day and night to improve every aspect of the railway. We have made enormous progress. Under our stewardship, the railway is already safer, more reliable and more efficient.